Kelly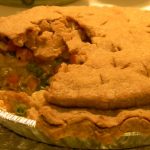 I am finally getting back to cooking after my accident and I'm just realizing how much I missed it! Don't get me wrong I don't mean that we've been eating restaurant food or pre-packaged crap, I just haven't been up to trying new recipes 😉
Last week I cooked a delicious roasted chicken with veggies. To make it simple, yummy and quick clean up, I place the chicken in a roasting pan, give it a through massage with olive oil, black pepper, garlic powder, onion powder, basil, oregano, and rosemary; then place chopped up veggies (potatoes, carrots, onions, celery and garlic) all around it, spray with a little olive oil, sprinkle with more of the same spices. Pop it in a 350° oven for 15 minutes per pound and you have a heavenly meal 🙂
The best part is that we had a ton of leftovers….what to do, what to do! An amazing lunch the next day used up the remaining veggies, but we still had a ton of chicken. How about a chicken pot pie??
Chicken Pot Pie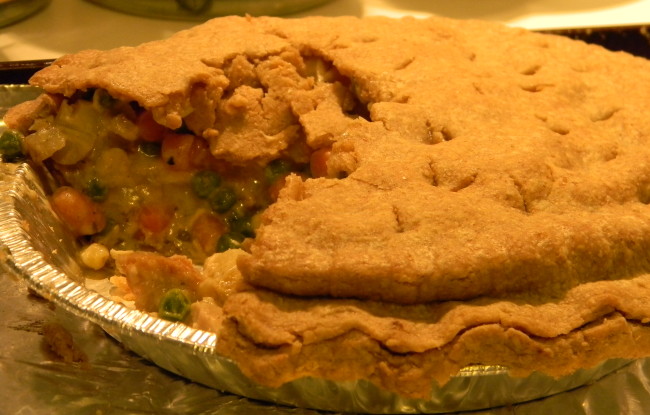 2 whole wheat pie crusts (I use Wholly Wholesome)
2 teaspoon olive oil
3 large potatoes, diced
1 – 1/2 cups baby carrots, cut into quarters
1/2 onion, diced
2 cloves garlic, minced
1/4 teaspoon rosemary
1/4 teaspoon garlic powder
1/2 teaspoon basil
1/2 teaspoon marjoram
1/4 teaspoon ground sage
1/4 teaspoon black pepper
1  -1/2 cups fat-free, low-sodium chicken broth
2-3 cups leftover roasted chicken, diced
1 cup frozen peas
1 Tablespoon Smart Balance
1 Tablespoon whole wheat flour
2 cups skim milk
Preheat oven to 400°
Heat the olive oil in a large skillet over medium heat. Add the potatoes, carrots, onion, and garlic; season with the herbs and spices. Saute until the onion and garlic are soft. Add the chicken broth (you want just enough to cover the veggies – you might need a little less or a little more depending on the size of your skillet), turn the heat up to high and bring to a boil. Turn the heat back to medium-high and simmer until the carrots are just soft and most of liquid is absorbed. Add the cooked chicken and frozen peas; mix well. Remove all to a platter and keep warm. Add the Smart Balance to the skillet and get it melting. Add the flour and get it well incorporated into the melted butter. Using a whisk, slowly add the milk and keep whisking, over medium-high heat, until you have a smooth, thickened gravy. Add the veggies and chicken back to the pan with the gravy and mix well. Pour all into the pie crust, top with second crust; crimp the edges together and spray lightly with olive oil. Bake in pre-heated oven for 25 – 30 minutes or until nicely browned.
I know….I've been gone for a while and I really apologize. Eric and I had a very eventful summer 🙂 It began with planning a 2 week trip back to our hometowns in New England, then the awesome trip itself, and then a week after we returned I was in a car accident while on the Rhett tour :(. I've been going to physical therapy and I'm getting better. However, I haven't felt much like cooking for a while.
A couple of weeks ago we participated in a local event called "Art In The Park". The little town next to ours, Kingston Springs, has this event every fall and it attracts all kinds of vendors; from art (of course) to homemade foods, books, jewelry, wood carvings, and more. I have to say it was really Eric who spearheaded this event, did the planning and all of the set up. I just showed up for a while and sat in a chair selling our goods (I have experience with that sort of thing!). We sold paintings, Eric's book (The Nashville Musician's Survival Guide), bags of homemade granola (we even gave away free samples of the granola), and my cookbook.
I'll be you didn't know I had a cookbook for sale…we'll it's not the official, finished version of the book I've been working on. It's a "prototype" 😉 I decided that this event would be a great test to see if it could sell. Well, I'm happy to say that it did! I only printed a small run and I have 8 copies left.If anyone is interested you can click on "Add to Carat" link below and get your very
own copy. They are $15.00 each and shipping is FREE!! Anyone that purchased this "prototype" will receive the full version of the cookbook (when it's published) for free.
I have been working on several new recipes and I will be adding them here in the coming days. I've created a delicious Chicken Pot Pie and some yummy and fun Cod Fish Cakes….stay tuned 😀 It's good to be back!