Parmesan Crusted Tilapia
This is the recipe that Eric calls "The Best Tilapia Ever"! It's easy to make and tastes awesome. I posted this photo on my Facebook page last night and I've had a ton of people message me for the recipe…so here it is:
UPDATE: I've added instructions and photo for Parmesan Crusted Chicken (or Turkey) below!
Parmesan Crusted Tilapia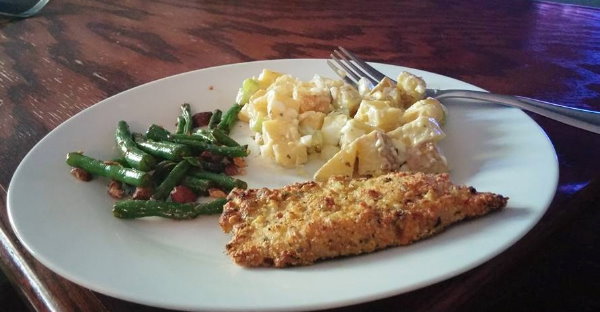 4 Tilapia Fillets
1/4 cup egg substitute (or 1 egg)
1/3 cup grated Parmesan cheese
2 Tablespoons cornmeal
1/2 teaspoon each of:
oregeno
basil
garlic powder
onion powder
crushed red pepper flakes
black pepper
Preheat oven to 425°, place a cooling rack on top of a cookie sheet, spay with cooking spray.
Place egg substitute in a shallow bowl. Mix cheese, cornmeal and spices and place onto a large plate. Dip filets in egg, then dredge in cheese mixture. Place fillets onto prepared rack. Bake for 10 -15 minutes or until fish flakes easily with a fork. For the last 3 – 4 minutes I turn on the broiler (and watch it VERY carefully) to get it nice and crispy. That's it!! Enjoy 🙂
I have also substituted thin chicken breasts for turkey cutlets for the tilapia. The cooking time is between 12 – 18 minutes (including the broiler at the end); depending on the thickness of the chicken/turkey.
Here is a photo of this recipe using turkey cutlets: