Chicken Pot Pie
I am finally getting back to cooking after my accident and I'm just realizing how much I missed it! Don't get me wrong I don't mean that we've been eating restaurant food or pre-packaged crap, I just haven't been up to trying new recipes 😉
Last week I cooked a delicious roasted chicken with veggies. To make it simple, yummy and quick clean up, I place the chicken in a roasting pan, give it a through massage with olive oil, black pepper, garlic powder, onion powder, basil, oregano, and rosemary; then place chopped up veggies (potatoes, carrots, onions, celery and garlic) all around it, spray with a little olive oil, sprinkle with more of the same spices. Pop it in a 350° oven for 15 minutes per pound and you have a heavenly meal 🙂
The best part is that we had a ton of leftovers….what to do, what to do! An amazing lunch the next day used up the remaining veggies, but we still had a ton of chicken. How about a chicken pot pie??
Chicken Pot Pie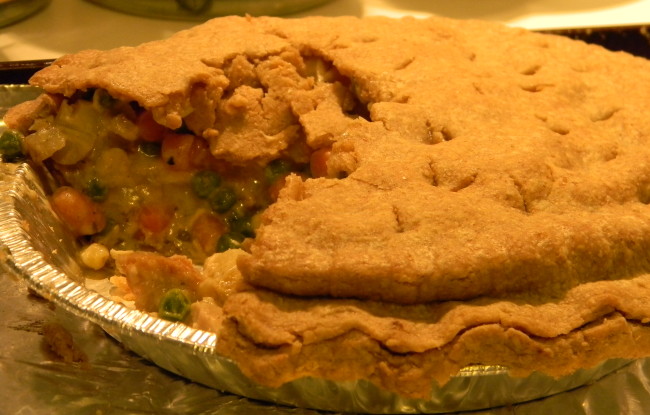 2 whole wheat pie crusts (I use Wholly Wholesome)
2 teaspoon olive oil
3 large potatoes, diced
1 – 1/2 cups baby carrots, cut into quarters
1/2 onion, diced
2 cloves garlic, minced
1/4 teaspoon rosemary
1/4 teaspoon garlic powder
1/2 teaspoon basil
1/2 teaspoon marjoram
1/4 teaspoon ground sage
1/4 teaspoon black pepper
1  -1/2 cups fat-free, low-sodium chicken broth
2-3 cups leftover roasted chicken, diced
1 cup frozen peas
1 Tablespoon Smart Balance
1 Tablespoon whole wheat flour
2 cups skim milk
Preheat oven to 400°
Heat the olive oil in a large skillet over medium heat. Add the potatoes, carrots, onion, and garlic; season with the herbs and spices. Saute until the onion and garlic are soft. Add the chicken broth (you want just enough to cover the veggies – you might need a little less or a little more depending on the size of your skillet), turn the heat up to high and bring to a boil. Turn the heat back to medium-high and simmer until the carrots are just soft and most of liquid is absorbed. Add the cooked chicken and frozen peas; mix well. Remove all to a platter and keep warm. Add the Smart Balance to the skillet and get it melting. Add the flour and get it well incorporated into the melted butter. Using a whisk, slowly add the milk and keep whisking, over medium-high heat, until you have a smooth, thickened gravy. Add the veggies and chicken back to the pan with the gravy and mix well. Pour all into the pie crust, top with second crust; crimp the edges together and spray lightly with olive oil. Bake in pre-heated oven for 25 – 30 minutes or until nicely browned.