Pumpkin Cheesecake – Happy Thanksgiving!!
Happy Thanksgiving everyone! Who says you can't eat delicious food on Thanksgiving and still be healthy 🙂 not me! I'm just taking a quick break from cooking….Yesterday I made some yummy brownies (Eric and Josh tell me that they are yummy – you see I hate chocolate..I know-weird). The brownies have a little secret….but you'll have to wait until I post that recipe to find out 😉 I also made a delicious pumpkin cheesecake – this I will eat. Pumpkin pie has always been one of my favorites, I also love cheesecake – combined – what could be better?? I think you'll find this recipe healthy (well, I wouldn't recommend eating this every day) and satisfying. Leave me a comment, once you awaken from your Thanksgiving day food coma, and let me know what you think.
One quick note before I get to the recipe. I'd like to say how thankful I am for my wonderful family (especially my very best friend, sous chef and husband, Eric and the worlds best son, Josh) and friends and for anyone and everyone out there who takes the time to read my blog. From my healthy heart to yours – have a wonderful holiday.
Pumpkin Cheesecake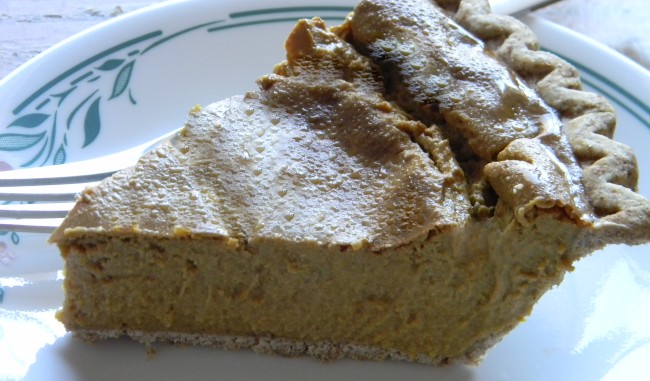 1 – 8 oz. package fat-free cream cheese, softened
1/2 teaspoon Stevia (this is the concentrated Stevia – equal to 1/2 cup sugar)
1/4 cup brown sugar
1 – 15 oz. can pure pumpkin
1 teaspoon ground cinnamon
1/2 teaspoon ground ginger
1/4 teaspoon ground nutmeg
3/4 cup egg substitute (or 3 eggs, lightly beaten)
1/2 cup skim evaporated milk
2 Tablespoons molasses
1 teaspoon vanilla
1 whole wheat pie crust (I use Wholly Wholesome from Whole Foods)
Preheat oven to 400°. In large bowl, with mixer on medium speed, beat cream cheese and sugars until smooth. Add pumpkin, cinnamon, ginger, and nutmeg; beat until blended, occasionally scraping sides of bowl with a rubber spatula. Add eggs, milk, molasses, and vanilla; beat until well blended, occasionally scraping bowl. Pour into pie crust. Bake for 40 – 45 minutes or until filling is puffed and set at edges but still jiggles slightly in the center. Cool pie completely on wire rack, then cover and refrigerate at least 6 hours.