Healthy Tacos – 195 to go!
Healthy Tacos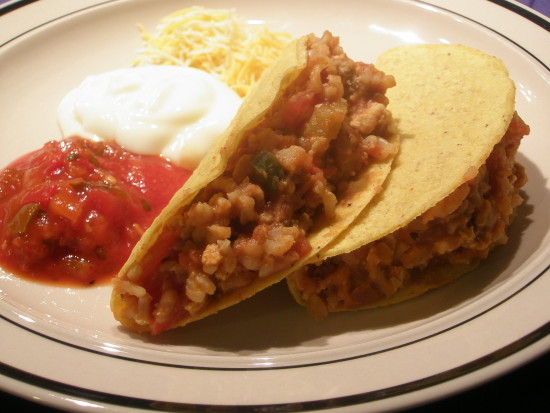 1 lb. ground beef or ground turkey
1 recipe "Taco Seasoning" (see below)
1  can fat free re-fried beans
2 bags Success Brown Rice, cooked and drained
2 cans diced, no salt added tomatoes
2 Tablespoons minced jalapeno peppers
Brown ground beef or turkey add taco seasoning; mix well. Addre-fried beans and mix well, then add tomatoes and jalapenos. Cook, stirring constantly, over medium heat 2 – 3 minutes. Add the brown rice and mix well. Continue stirring over a low heat for a minute or so.
Serve in taco shells with low-free plain yogurt, low-free cheddar and/or Jack cheese, shredded lettuce, and salsa (look for a low-salt, low-sugar variety or make your own…recipe coming soon!).
Taco Seasoning

1 Tablespoon chili powder
3/4 teaspoon garlic powder
3/4 teaspoon onion powder
1/2 teaspoon crushed red pepper flakes
3/4 teaspoon cayenne pepper
1/2 teaspoon dried oregano
3/4 teaspoon paprika
1 1/2 teaspoons ground cumin
1/4 teaspoon black pepper

Mix all ingredients in a small bowl.
5 Responses to Healthy Tacos – 195 to go!