Taco Pie
I can't believe it's been so long since I've posted! Life and work just keep getting in my way! A few weeks ago it was one of those nights when I'd stayed too late in my office and I had very little time to make a yummy, healthy dinner. I peered into the frig hoping for some inspiration and it hit me! I had a bunch of leftover taco mixture (check out his delicious and healthy recipes for tacos) 🙂 Taco Pie! So simple – so tasty – so quick! Just what I needed!
Taco Pie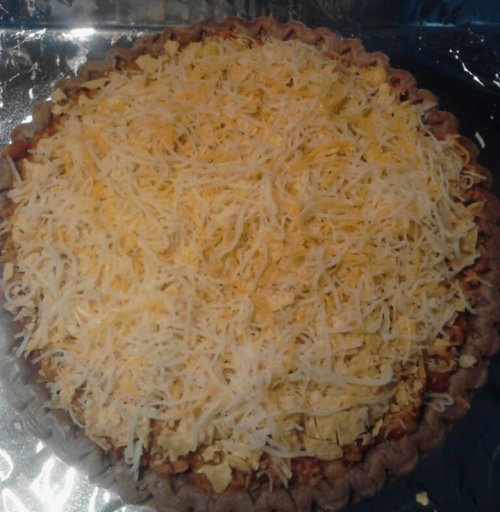 1 – 100% whole wheat pie crust (I use Wholly Wholesome)
2 teaspoons olive oil
1 – 15 oz. can black beans, rinsed and drained
1 – 8 oz. can tomato sauce, no salt added
3 -4 cups left over taco mixture (recipe here – trust me, unless you fed an army, you will have left overs from this recipe!)
2/3 cup low fat Mexican cheese blend- divided (I use Trader Joe's Shredded Lite Mexican Blend)
3 -4 left over taco shells, coarsely crushed (I use Trader Joe's Shells – only 3 ingredients!)
Preheat oven to 375°
Heat olive oil over medium heat in a medium skillet. Add black beans saute for 3 – 4 minutes; as they start to get warm you want to mush them up a bit. Add the tomato sauce, taco mixture, and 1/3 cup of cheese. Blend well and heat through. Pour everything into your pie crust. Spread crushed taco shells over the top and then sprinkle with the remaining 1/3 cup of cheese.
Bake in preheated oven for 25 minutes. Serve with your favorite salsa and plain fat free yogurt (or sour cream). 🙂