This crock pot meal takes bout 10 minutes of prep time and the incredible smell all day will drive you crazy! It's easy, nutritious, and makes at least 8 servings at less than 300 calories per bowl…of course, that depends on what you like to put on top – some ideas are, diced avocado, raw onions, shredded cheese, sour cream (or plain Greek yogurt), tortilla strips, or crushed corn chips…..
Slow Cooker Chicken Enchilada Soup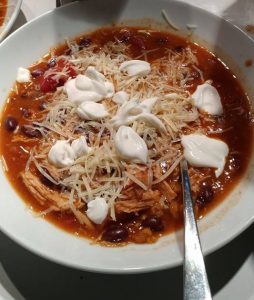 2 boneless, skinless chicken breasts (about 1 pound)
1 1/2 cups low-sodium chicken stock
1 /14 cups red enchilada sauce (store bought – or even better try the recipe below – very easy, healthy, and less expensive!)
1 – 14 oz can diced tomatoes
2 – 14 oz cans black beans, rinsed and drained
1 – 15 oz can creamed corn, no salt added
1 – 4 oz can diced green chilies
2 cloves garlic, minced
1 small onion, diced
1 teaspoon ground cumin
Add all ingredients – except chicken breasts – to a your crock pot; mix well. Submerge chicken breasts into the soup. Cover and cook for 6 – 8 hours on low. About a half hour or so before you are ready to eat, remove the chicken from the crock pot and use two forks to shred it; add it back to the soup, stir to combine, and let it cook for another half hour.
Homemade Red Enchilada Sauce
1 chipotle pepper, plus 1 Tablespoon of the adobo sauce (the stuff the chipotle come packed in)
3 cups chicken or vegetable stock, low sodium
3 Tablespoons olive oil
3 Tablespoons whole wheat flour
1 – 8 oz can tomato sauce, no salt added
4 Tablespoons chili powder
3/4 teaspoon garlic powder
1/2 teaspoon cumin powder
1/2 teaspoon dried oregano
1/2 teaspoon onion powder
Combine the chipolte pepper, adobo sauce, and 1/2 cup of chicken stock in a blender or food processor. Blend until completely smooth, with no solids remaining.
Heat the oil in a medium saucepan over medium-high heat. Add the four and whisk for 1 minute (being careful no to let it stick to the bottom). Add the tomato sauce, chili powder, garlic powder, cumin, oregano, and onion powder. Continue to whisk and add in the chipolte pepper mixture. Once the everything is totally combined and smooth; add in the chicken stock 1/2 cup at a time; whisking continuously to make sure you don't get any lumps. Keep whisking until the sauce is just thick enough to coat the back of a spoon. Remove from heat. You can use this immediately or let it cool and refrigerate it or freeze it.
This recipe makes almost exactly enough for 3 batches of the Enchilada Soup recipe above. I usually make this and use one serving for the soup and then freeze the rest in two equal portions – so the next time I want to make this soup, I just grab one from the freezer and I'm good to go!