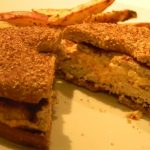 Last night was one of those  "I can't decide what I want for dinner" nights. My son, Josh, was visiting so I asked him to decide (this way I don't have to 😉 ). He said "How about burgers, maybe stuffed with some kind of cheese"? Well…that sounded pretty good.
Of course, if you read my blogs very often, you'll know that I don't eat red meat so these burgers would be turkey burgers. I always use 99% fat free ground turkey which can be dry when fully cooked (who wants a rare turkey burger 🙁 ), so I'm always trying out ideas to "kick them up a notch". I looked in the fridge and found that I had fat-free feta, mozzarella, and cream cheese – a good start; then I noticed that I also had some roasted red peppers from our most recent trip to Whole Foods – that will do it! When the burgers were almost done, I realized that I was out of my favorite sandwich rounds that I usually use in place of buns; but I did have some Nature's Own 100% Whole Wheat Thin Sliced Bagels – that works!
My son loved them and my husband says they are the best turkey burgers he's ever tasted….let me know what you all think!
Roasted Red Pepper & Feta Stuffed Turkey Burgers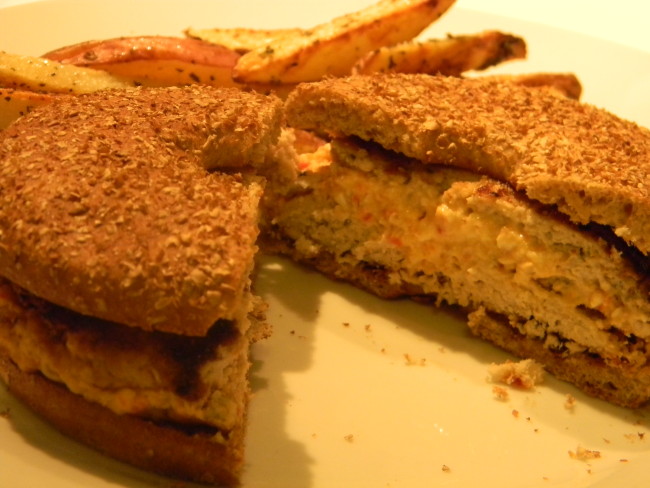 4 -100% whole wheat thin sliced bagels
1/2 cup fat-free feta cheese crumbles
1/4 cup low-fat mozzarella, shredded
2 Tablespoons fat-free cream cheese
1 medium roasted red pepper, cut into pieces
1 Tablespoon plain fat-free yogurt
1 – 1/4 lbs. 99% fat-free ground turkey
1/2 teaspoon garlic powder
1/2 teaspoon dried onion flakes
1/2 teaspoon basil
2 teaspoons balsamic vinegar
Place the feta, mozzarella, cream cheese, red pepper pieces and the yogurt into a food processor and process until well blended (you might need to add a little more yogurt to get it to all process smoothly). You want to end up with a thick mixture that holds together. Set aside in a small bowl. (This amount made more than I needed for the four burgers, so I set aside the rest of it and spread it on top of the cooked burgers.)
Place the ground turkey in a large bowl, add the garlic powder, onion flakes, basil and vinegar; blend well. Press the mixture into an even ball in the bottom of the bowl; score into four even sections. Take one section at a time and break that into two even pieces, form each piece into a flat patty and place onto a plate. Take a couple of spoons of the cheese filling and spread onto one patty; top with another patty and press the edges together well.
Heat a skillet over medium-high heat and spray with cooking spray. Add the stuffed burgers and cook 4 – 6 minutes on each side or until golden brown and cooked through. Top with some of the extra cheese mixture and serve on toasted bagel thins.