Turkey Meatloaf – 152
I love meatloaf, it's one of those "comfort foods" that makes me think of being a kid. Meatloaf when I was growing up was ground beef and sometimes a mixture of ground beef and pork. My mother usually added a few strips of bacon on the top, because there wasn't enough meat in there already 🙂 The meatloaf I make now doesn't resemble that one very much except….let's see…it's the same shape and….. it delicious!
Turkey Meatloaf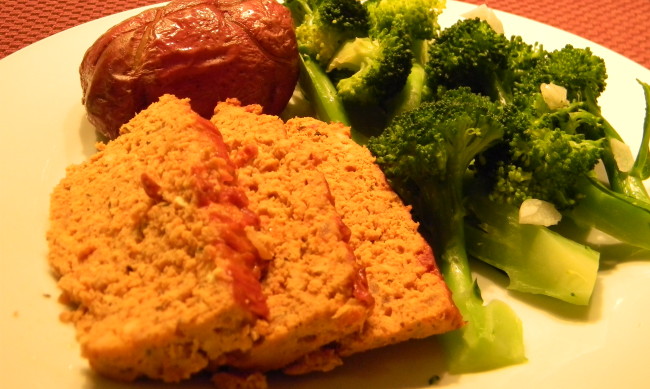 1 Tablespoon olive oil
1 cup onion, chopped
4 cloves garlic, minced
1 medium yellow pepper, chopped (any type of pepper will do)
1/2 cup mushrooms, chopped
1/4 teaspoon black pepper
1/2 teaspoon thyme
1/2 teaspoon basil
2 Tablespoons tomato paste (no salt added)
1/4 cup fat-free, low-sodium chicken broth
1 Tablespoon Worcestershire sauce
1 – 1/4 lb. 99% fat-free ground turkey
3/4 cup oatmeal, uncooked dry
1/4 cup egg substitute
1/3 cup low-fat feta cheese, crumbled
2 Tablespoons low sugar ketchup
Preheat oven to 350°.
In medium saute pan, heat the olive oil over medium heat. Add the onion, garlic, peppers, and mushrooms; season with pepper, thyme and basil. Saute until onions and peppers are soft. Add tomato paste, chicken broth and Worcestershire sauce; mix well. Place into a bowl and let it cool slightly. Combine the ground turkey, oatmeal, egg, cheese, and onion mixture; blend well. Place into an 8″ x 4″ loaf pan. Spread ketchup on top. Bake in preheated oven for 50 – 55 minutes or until the internal temperature is 165°.
One Response to Turkey Meatloaf – 152