Spinach & Mushroom Lasagna – 143
Yesterday Eric and I took a trip to the new Whole Foods that just opened in our area. It's actually a new location for the Whole Foods that we've been visiting for years. Yesterday was the Grand Opening – how could we resist? We made a big list, loaded up the car with our canvas grocery bags and we were on our way!
There was one small crimp in our plan…I had forgotten to write down directions to the new location…ooops 😳 We were almost at the old location when I realized my mistake. Not to worry – I have a GPS and Google Maps on my phone, a couple of wrong turns later and we arrived at our destination. Wow, this place is huge and the parking lot was packed (at 2:00 pm on a Wednesday afternoon – doesn't anyone work any more?).
The first thing we realized when we walked in was that we had no idea where anything was located. Oh well, they had plenty of samples – fresh strawberries, cantaloupe, cheeses….mmmm. As we made our way around this giant food heaven, I started realizing that our cart had a lot more in it than we had on the list – but how can you resist? The produce is spectacular. I found a huge container of fresh baby spinach and I decided that we were going to cook a vegetarian lasagna for dinner! A few minutes later we arrived at the "Olive Bar" and I saw some beautiful roasted red peppers; another great addition to my lasagna.
Once we arrived at home we had the monumental task of putting away all of this good food and then getting in a P90X workout! We did it, a kick-ass P90X+ Intervals workout, followed by creating a huge pan lasagna, followed by a great bath, followed by eating this amazing creation with a glass of red wine – what a perfect ending to the day 🙂
Spinach & Mushroom Lasagna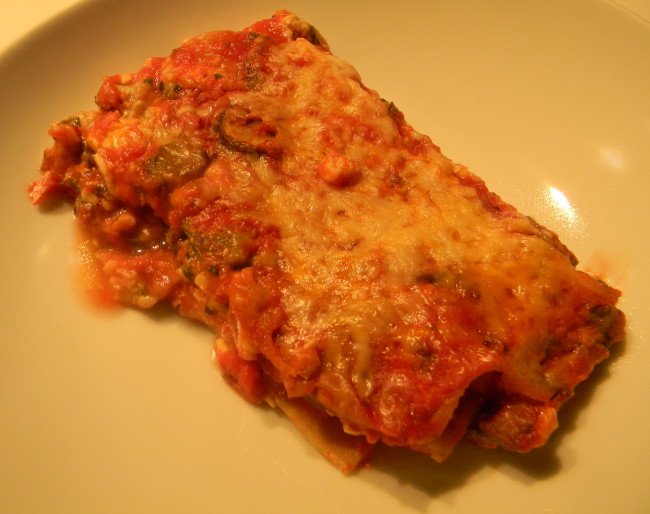 1 – 8 oz. box whole wheat lasagna noodles, cooked according to package directions, no salt
1 – 28 oz. can tomato puree (I finally found a large can with no salt – Dei Fratelli brand)
1/2 teaspoon garlic powder
1/2 teaspoon onion powder
1/2 teaspoon basil
1/2 teaspoon oregano
3 cloves garlic, minced
1 cup onion, chopped
6 cups fresh baby spinach, chopped
1 cup mushrooms, sliced
1/2 teaspoon basil
1/2 teaspoon oregano
2 Tablespoons olive oil
3 cups fat free cottage (or ricotta) cheese
1/2 cup Parmesan cheese
1/4 cup fat free feta cheese
1/4 cup egg substitute (or 1 egg)
1/4 teaspoon black pepper
2 cups Mozzarella cheese ( I use 1 cup fat free and 1 cup of regular)
1 large roasted red pepper, sliced into julienne strips
Preheat oven to 375°, spray a 9″ x 13″ pan with cooking spray.
In a large bowl, mix the tomato puree, garlic powder, onion powder, basil, and oregano; set aside. Heat the olive oil in a skillet over medium heat, add onion, garlic, and mushrooms; saute until onion is soft and mushrooms begin to lightly brown, season with basil and oregano. Add in the baby spinach – you'll need to do this a little at a time. It seems like a ton of spinach, but once it cooks down it's just right. Once all the spinach has been added and is cooked down; take the pan off the stove and let the mixture cool slightly. In another large bowl mix the cottage cheese, Parmesan, egg, and black pepper; then add in the cooled spinach mixture and blend well.
Now you're ready to assemble it – put a very thin layer of the puree mixture on the bottom of your prepared 9″ x 13″ pan, followed by a layer of lasagne noodles, spread the noodles with 1/3 of the cheese/spinach mixture, add several strips of roasted red pepper, a layer of Mozzarella – continue until all of the noodles are used up; ending with a last layer of sauce followed by Mozzarella on top. I also added a few last strips of the roasted red pepper on the very top.
Cover with tin foil and bake for 1 hour. Take the foil off and place under the broiler for about 1 minute to lightly brown the top. Now the hardest part – let it sit for at least 15 minutes before cutting into it. 😆