Roasted Veggie & Baby Greens Salad – 146
Last weekend I was in Darien, GA with the Rhett Akins band for a concert at the Blessing Of The Fleet. Darien is a beautiful place, I highly recommend a visit if you're ever in the area. The people were super nice and took great care of us. Our dinner was provided at a local restaurant "Skippers Fish Camp".
If you read my blog very often, you'll know that I never eat at restaurants. This was different…it was seafood. Growing up in Kennebunkport, Maine; I took local, fresh seafood for granted. Living in Nashville, I really miss it! The chance to eat some fresh-off-the-boat shrimp was too much too pass up. Still; I had to be careful, I'm just not used to eating "restaurant food".
I chose the "Sunset Salad" and Eric chose the Sweet Georgia Shrimp Platter – Broiled – Large and a one McIntosh Crab Cake. Since restaurant portions are always too big, we decided we would share. We each had a half  crab cake, a half of the salad, and I got about 1/3 of the shrimp ( 🙂 ). It did taste delicious and the salad was a  combination of warm roasted veggies and baby greens. The only problem was that it was still restaurant food and about an hour later I had a major belly ache and was regretting not just bringing my own food and buying some fresh shrimp to take home 🙁
The bright spot (aside from the concert – which was awesome – check out Eric's blog about it) was that I got a great idea for a new recipe – I hope you'll love it as much as I do!
Roasted Veggie & Baby Greens Salad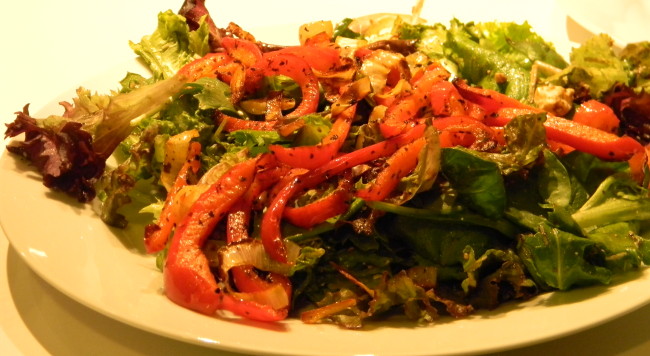 1 large red pepper, julienne sliced
3/4 cup sweet onion, sliced
2 cloves garlic, thinly sliced
1 Tablespoon olive oil
4 cups mixed baby greens
1/4 cup low-fat feta cheese
2 Tablespoons olive oil
1 Tablespoon balsamic vinegar
1/4 teaspoon basil
1/4 teaspoon oregano
1/4 teaspoon garlic powder
1/8 teaspoon black pepper
Preheat oven to 375°. Line a baking pan with foil and spray with cooking spray. Place peppers, onion, and garlic into a bowl, add the olive oil and mix well. Place pepper mixture onto baking pan and roast for 20 minutes, turn heat up to 425° and roast for an additional 8 – 10 minutes (watch it so the garlic doesn't burn).
Meanwhile, place the baby greens and feta cheese into your salad or mixing bowl. In a small container blend the 2 Tablespoons of olive oil, balsamic vinegar, basil oregano, garlic powder and black pepper. Mix the dressing into the greens. Divide into two plates or bowls. When the peppers are finished roasting, place them on top of the salad. You're done!! Yum, yum 😉