Spinach and Artichoke Mac & Cheese
I love spinach and artichoke dip and I love mac and cheese – so why not put them together for dinner!!
Spinach and Artichoke Mac & Cheese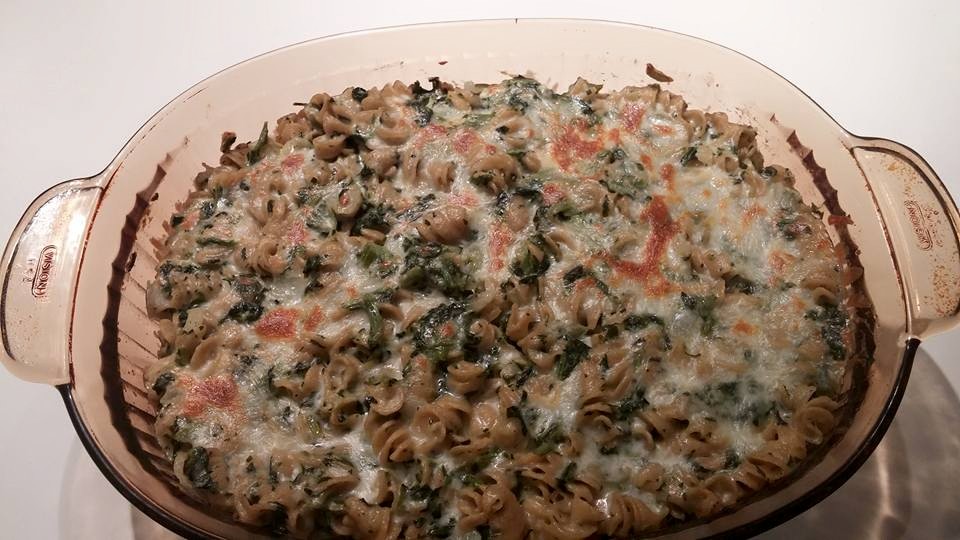 1 lb. whole wheat pasta (I used rotini)
2 Tablespoons olive oil
1 small onion, chopped
3 cloves garlic, minced
1 10 oz. bag frozen spinach (thawed and drained)
1 12 oz. jar chopped (or quartered) artichoke hearts
1/8 teaspoon nutmeg
1/8 teaspoon black pepper
2 Tablespoons butter
2 Tablespoons whole wheat flour
2 cups milk (I use skim)
1-1/4 cups shredded Asiago cheese
1 cup grated Parmigiano Reggiano cheese
1/4 cup shredded Mozzarella cheese
Preheat the oven to 350° and spray a 9″ x 13″ casserole dish with non stick spray.
Cook the pasta according to the directions on the package (I omit the salt). While the pasta is cooking, place a large saucepan over medium-low heat; add the olive oil and then the onions. Saute the onions for about 10 minutes; until they are soft. Add the garlic and saute for another 2 -3 minutes. Add the spinach and artichokes; season with nutmeg and pepper; mix well. Saute until the veggies are warm and well combined (3 – 4 minutes). Place all into a plate and reserve.
When the pasta is done cooking, drain, put pasta back in the pot and then add this veggie mixture to the pasta; blend well and keep warm while you make the sauce.
Turn the heat up to medium-high and add the butter. When the butter is mostly melted, sprinkle in the flour and, using a wire whisk, mix well. You will have what looks like crumbs in the pan. Let this cook for 2 – 3 minutes, keeping everything moving and letting the pan get fairly hot. Start adding the milk a little at a time, whisking well after each addition and making sure everything is smooth; letting the pan heat back up again before adding the next milk addition (this will help the sauce stay smooth and lump free). Once you have added all of the milk, add in the Asiago and Parmigiano Reggiano and whisk until smooth.
Add the sauce to the pasta/veggie mixture and put it all into the prepared casserole dish. Sprinkle the 1/4 cup of Mozzarella over the top, cover and bake for 20 minutes. Remove the cover, turn on the broiler for about 3 – 4 minutes to brown the top (watch very carefully!!).