Mexican Shepherd's Pie
This is a really easy and yummy variation of traditional Shepherd's Pie using ground turkey, jalapenos, Mexican spices, beans, and corn; topped off with cheesy cornbread instead of mashed potatoes! When I serve it, I like to top it with plain Greek yogurt, shredded cheese, salsa, shredded lettuce, and avocado slices  😉
Mexican Shepherd's Pie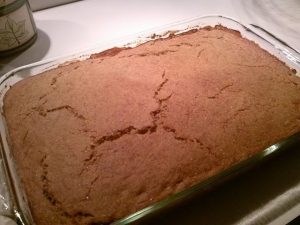 1-1/2 lbs. ground turkey
1 onion, chopped
3 cloves garlic, minced
2 small jalapenos, minced
1 Tablespoon chili powder
3/4 teaspoon garlic powder
3/4 teaspoon onion powder
1/2 teaspoon crushed red pepper flakes
3/4 teaspoon cayenne pepper
1/2 teaspoon dried oregano
3/4 teaspoon paprika
1 – 1/2 teaspoons ground cumin
1/4 teaspoon black pepper
1 – 15 oz. can black beans, drained
1 – 15 oz. can diced tomatoes, no salt added
1 – 13 oz. can creamed corn, no salt added
1 cup frozen corn
1 – 8 oz. can tomato sauce, no salt added
Cheesy Corn Bread:
1 cup whole grain cornmeal
1 cup whole wheat flour
1 cup shredded cheddar cheese
1 cup skim milk
2 eggs
1/2 cup canola oil
4 teaspoons baking powder
1/8 teaspoon salt
Preheat oven to 450° Spray a 9″ x 13″ pan with non-stick cooking spray.
Brown ground turkey over medium heat, when it's about 3/4 done; add onion and continue cooking until the turkey is cooked through and the onions are soft. Add garlic and jalapenos to the pan and saute for a few minutes; until the garlic is slightly soft (be careful not to burn the garlic). Add the spices and mix well. Add the beans, corn (both types), tomatoes, and tomato sauce. Mix well.
Combine all cornbread ingredients in a bowl and stir until mostly smooth ( a few lumps are ok).
Pour turkey mixture into prepared pan, top with cornbread. Spread the cornbread evenly over the turkey mixture. Bake for 25 to 30 minutes or until the cornbread is golden brown.
****VARIATION — Using Leftover Tacos!! ****
My "Healthy Tacos" recipe makes a TON of food; if you don't have an army to feed, you probably have a big pan of left overs after this meal. What to do…. "Taco Pie" is a great option – but so is Mexican Shepard's Pie. Here are the super simple instructions:
Ingredients:
Leftover Taco Mixture
1 – 15 oz. can black beans, drained (you can also use chick peas as a substitute)
1 – 13 oz. can creamed corn, no salt added
1/3 cup Salsa (any Salsa you have on hand)
Cheesy Corn Bread (recipe above)

If you don't like corn bread or can't eat corn, make Cheesy Drop Biscuits:


Ingredients:

2 Cups Whole Wheat Baking Mix (I use Hodgson Mill Insta-Bake Mix – click here)
1 Tablespoon Butter
2/3 Cup Shredded Cheese (any kind you like, I use sharp cheddar)
2 Tablespoons diced jalepenos
1 Cup Skim Milk
Oven temperature should be at 425° and the baking time will be approximately 14 – 18 minutes with this variation.

Place baking mix in large bowl, cut in butter using a pastry blender or two knives until the mixture looks like coarse crumbs. Add cheese, jalepenos, and milk; mix well. Drop by large tablespoons over the taco mixture – do not spread, but make them somewhat close together to cover as much of the top as possible.
Preheat oven to 450°; spray a 9″ x 13″ pan with non-stick cooking spray.
Place taco mixture into a large frying pan, add beans, creamed corn, and salsa; mix well over medium heat until heated through. Meanwhile make Cheesy Corn Bread; set aside. Pour heated taco mixture into prepared pan; spread evenly. Top with Cornbread and spread evenly over taco mixture. Bake for 25 to 30 minutes, or until the cornbread is golden brown.