Chinese Duck Sauce
Today is Super Bowl Sunday! After much discussion over the past few weeks we settled on a slightly less than traditional Super Bowl feast — a Chinese Buffet 🙂 I'll be making (all as healthy as possible…but this is a special occasion so….):
Chicken Fingers – Steak Teriyaki – Teriyaki Chicken Wings – Veggie Fried Rice – Egg Rolls – Duck Sauce – Chinese Gravy
I'll be posting more photos and recipes later, but for now here is my Duck Sauce recipe. Eric loves duck sauce, but the store bought varieties are basically nothing but high-fructose corn syrup so he challenged me to make a healthy one. It passed the first taste test as I was preparing it and it's now cooling in the fridge awaiting kick off.
Chinese Duck Sauce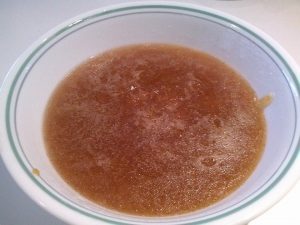 1 cup apricot jam (I used All Fruit)
1 Tablespoon vinegar
1 teaspoon onion powder
1/4 teaspoon ginger powder
1/4 teaspoon allspice
1/8 teaspoon garlic powder
1/8 teaspoon cayenne pepper
1 teaspoon honey (I used Agave)
1/3 cup water (approximately – add slowly until you get a slightly thinner sauce than you want – it will thicken again when it's cool)
Whisk the ingredients together well in a medium sauce pan. Bring to a boil on low heat; stirring almost constantly. Cool the sauce and store in the refrigerator.