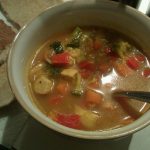 Last weekend Eric and I went to our favorite book store in Nashville, McKay's Used Books. It is the best place to spend a few hours, spend very little money and come home with a ton of fun. They have used DVDs, books, audio books, video games, and (Eric's favorite) vinyl albums. He usually spends the entire time browsing through the albums and I divide my time between DVDs and books.
This particular outing we totally scored. Eric got the Beatles 1962-1966 double album for $9.95 (the most he's ever spent for an album there), a Bad Company for .50¢, Queen for .68¢, Simon & Garfunkel live in Central Park for $4.95 and several others, . I got a 5 DVD set of a World War II documentary and a 4 DVD set of Elvis movies for less than $10. My best value was two giant, full-color cookbooks from the early 90's for .25¢ each.
When we got home I immediately started looking for some new recipe ideas (with the Beatles playing in the background, of course). I found so many! I kept turning the pages and finding really interesting ideas. I marked all the pages where I found things I wanted to try and then I went back and looked for something I could make for dinner based on the ingredients I had on hand. I settled on a Curried Soup. As usual, I liked elements of the recipe, but I wanted to "make it my own". I already had some chicken breast in the fridge and some great fresh organic broccoli from our last trip to Whole Foods. I ended up with a delicious Chicken Curry Soup. I hope you'll try it and let me know what you think!
Chicken Curry Soup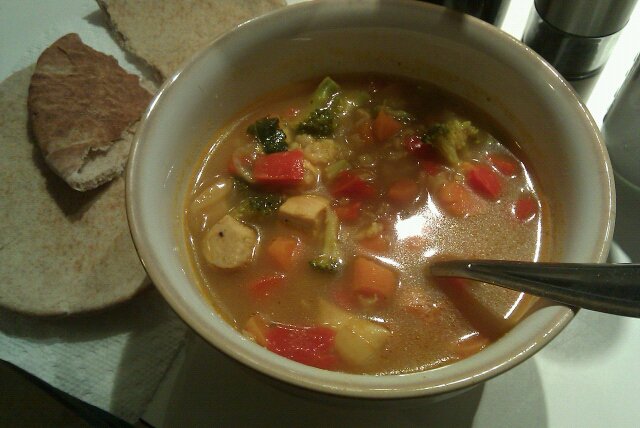 1 Tablespoon olive oil
1 – lb. boneless, skinless chicken breast, cut into cubes
1/4 teaspoon black pepper
1/4 teaspoon curry powder
1/2 Tablespoon olive oil
1 cup carrots, sliced
2 cloves garlic, minced
1 cup onion, sliced
1 sweet red pepper, chopped
1 medium head broccoli florets
2 teaspoons curry powder
1 teaspoon ground coriander
1/4 teaspoon ground cumin
5 cups low-sodium, fat-free chicken broth
2 cups cooked brown rice (I use Success brown rice, in a bag – 1 bag = 2 cups)
In a medium skillet, heat 1 Tablespoon olive oil over medium heat; add the diced chicken and season with black pepper and 1/4 teaspoon of curry powder. Saute until browned and cooked through. Remove from heat and keep warm.
Add carrots, garlic, onion, red pepper, and broccoli to skillet; season with 2 teaspoons curry powder, the coriander and cumin. Saute for  5 – 6 minutes until onion is soft. Pour in the chicken broth and bring to a boil. Reduce heat and simmer for 10-12 minutes (until veggies are done to your liking – you don't want them mushy). Stir in the cooked chicken and rice; simmer for an additional few minutes to mingle the flavors. YUM 🙂