Quick 'n Easy Chicken Parm – 144
My son came over the other night to watch the Celtics play off game against the Nicks. Just like during football season, we like to DVR the game and watch it without commercials (who wants to watch commercials?). While we were waiting for the recording to get to a point where we wouldn't "catch up" to it by fast forwarding; we had time to listen to some albums (yes, actual vinyl) and cook a great dinner. I was still recovering from my cold and I was going to just make a quick Chinese stir-fry, but my son suggested "how about chicken parm?". What a great idea! I hadn't made it in a long time and my blog is in dire need of some new recipes- perfect! It came together super fast and before you know it we were enjoying an awesome meal and a great Celtics play off win 🙂
Quick 'n Easy Chicken Parm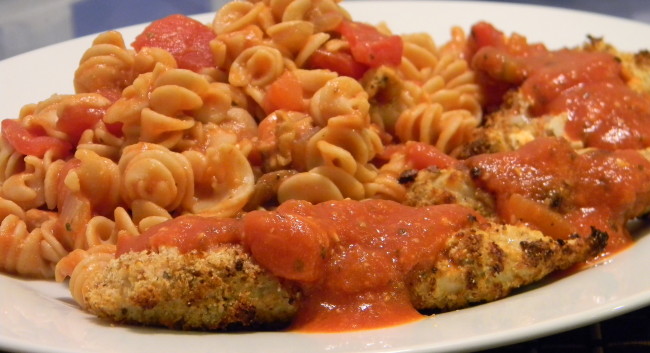 1 – lb. 99% fat-free chicken breast, cut into "finger" like strips
1/2 cup seasoned dry bread crumbs
2 Tablespoon grated, low-fat Parmesan cheese
1/2 cup egg substitute
1 Tablespoon olive oil
3 cloves garlic, minced
1 cup onion, chopped
1 – 12 oz. package sliced Portobello mushrooms
2 – 15 oz. cans diced tomatoes, no salt added
3 – 8 oz. cans tomato sauce, no salt added
1/2 teaspoon basil
1/2 teaspoon oregano
2 Tablespoons grated, low-fat Parmesan Cheese
1/4 cup fat-free Mozzarella cheese, shredded
1 – 16 oz. package of any 100% whole wheat pasta (I used Rotini), cooked according to package directions – no salt)
 Preheat oven to 425°. Heat olive oil in a large skillet. Saute the garlic, onion and mushrooms until soft and lightly browned. (**note** my awesome sous chef is very particular about prepping our chicken, he makes sure that only the best pieces are cut for the recipes and any yucky fat or unpleasant looking veins and tendons are cut out. Sometimes this means that along with these perfect "finger" size strips, I also get some small pieces that don't really work for breading and baking. This happened with this meal, so I jut took all of the small pieces and sauteed them with the veggies – problem solved!) Add diced tomatoes, tomato sauce, basil and oregano. Cook for several more minutes, until hot and bubbly. Add 2 Tablespoons Parmesan cheese and stir until well combined.
While the sauce is simmering, place a cooling rack on a cookie sheet and spray with cooking spray. Combine break crumbs and 2 Tablespoons Parmesan on a plate. Dip chicken pieces in egg and then dredge in bread crumb mixture. Place chicken on the rack. Bake in oven for approximately 10 – 14 minutes. When done; top with shredded Mozzarella and cook for a couple of more minutes, just until the cheese melts.
Pour the sauce over the cooked pasta (reserving some sauce for the chicken) and mix well. Serve with chicken strips on the side top each piece with some reserved tomato sauce.