Chicken Broccoli Alfredo – 149
What a crazy few weeks it's been, in a good way. My website company is super busy – thank you to all of my wonderful new clients for choosing Just Ducky Designs for your on line advertising! I've also been working very closely with my favorite website client The Nashville Musician's Survival Guide (full disclosure here – he's also my husband 😛 ). We just launched the new online store where you can purchase an advance copy of the book and/or Eric's CD "Songs Without Words" (individual downloads are also available). Also added to the site is a PDF preview of the actual book, click here to take a look. We are very excited to announce that April 18th is the official release date! Be sure to check out the store and purchase your advance copy to insure that you will be among the first to receive the book (buying it in advance will also help us pay for the upfront printing costs 😳 ).
OK, enough about all that – back to recipes!! The other night as Eric was prepping and I was cooking this delicious meal, I realized that I hadn't added it to the blog yet. I've been making this recipe forever and it's one of our favorites. It's yummy, satisfying, and so easy. I hope it will become one of your favorites too!
Chicken Broccoli Alfredo
(or as Eric calls it – Chick-Broc-Alf)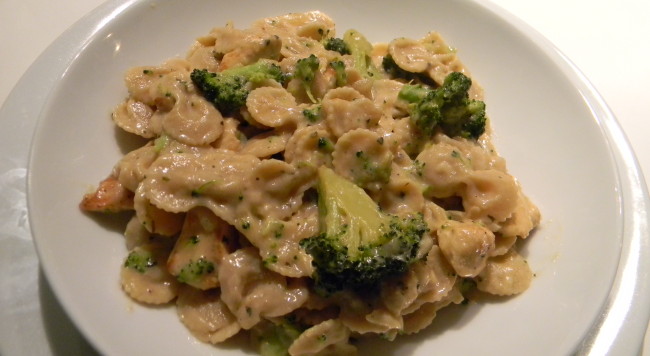 4 garlic cloves, minced
1/2 cup onion, finely chopped
1 Tablespoon olive oil
1/4 teaspoon black pepper
1/2 teaspoon basil
1/2 teaspoon oregano
3 cups broccoli florets
3/4 cup fat-free, low-sodium chicken broth
1 – lb. chicken breast, cubed
2 cups skim milk
2 teaspoons cornstarch
1/3 cup fat-free mozzarella cheese, shredded
1/4 cup low-fat Parmesan cheese, grated
1 – 16 oz. package whole wheat pasta (I used bow ties for this); cooked according to pkg. directions – no salt
In a medium saute pan, heat the olive oil over medium heat. Add the onion and garlic and saute for 2-3 minutes.  Add the broccoli, season with half of the pepper, basil, and oregano; cook for 2 -3 additional minutes. Add the chicken broth; mix well. Bring to a boil, reduce heat and simmer for 3-4 minutes or until the broccoli is tender-crisp (you don't want mushy broccoli). Place broccoli mixture into a bowl and keep warm (there will still be a small amount of broth left, keep most of it with the broccoli but leave a little in the saute pan. Add the chicken cubes to the saute pan (you might want to add a teaspoon of olive oil to the pan); season with remaining pepper, basil and oregano. Saute until lightly browned and cooked through. Remove chicken to the bowl with the broccoli mixture. Add almost all of the 2 cups of milk to the pan (reserve about 2 tablespoons of the milk), heat to very hot but not boiling. Mix cornstarch with the reserved milk and whisk into the hot milk in the pan. Continue stirring until the mixture starts to thicken; turn off heat. Whisk in the cheeses until well blended. Stir in the chicken/broccoli mixture and pour everything over the cooked and drained pasta. Serve with a little extra grated Parmesan!