Vegetarian Shepherd's Pie – 180
This is one of my favorite meals. It's one of those comfort foods that taste great on a cold night and makes you feel all warm and fuzzy inside. It reminds me of being a kid when my mother would make Shepherd's Pie; although hers was ground beef, corn, and mashed potatoes. It was still great, but not exactly the healthiest meal. This vegetarian version is even heartier while  being much lower in calories, fat and sodium, but higher in protein and fiber- and amazingly delicious!! Some of you may say "oh but it's high in carbs"….yes, you are right….GOOD carbs. There is a difference. I've also swapped out half of the potatoes in the topping, for rutabagas. Potatoes have about 22 g of carbs in a cup, but rutabagas have only 7. Trust me, try it – you will love it 😀
Vegetarian Shepherd's Pie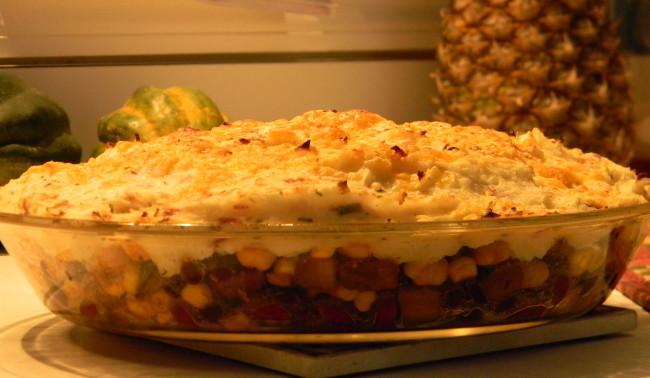 3 potatoes, cut into cubes
3 rutabagas, cut into cubes
1/2 cup onion, chopped
2 cloves garlic, minced
1/4 teaspoon black pepper
1/2 teaspoon basil
1/2 teaspoon thyme
1/2 teaspoon oregano
1/4 teaspoon cayenne pepper
1 – 1/2 cups eggplant, diced
1 – 1/2 cups frozen corn kernels
1 – 15 oz. can low sodium black beans, rinsed and drained
1 – 16 oz. can low sodium kidney beans, rinsed and drained
1 – 16 oz. can low sodium garbanzo beans, rinsed and drained
2 – 8 oz. cans no salt added tomato sauce
2 Tablespoons plain, low fat Greek yogurt
1 Tablespoon chives
1/4 cup low cheddar and/or jack cheese, shredded
Preheat oven to 375°. Spray a 9″ pie plate with non-fat cooking spray; set aside.
In large saucepan, combine potatoes and rutabagas, with enough water to cover. Bring to a boil over high heat. Cook until rutabagas are very soft (the potatoes will be soft before the rutabagas are done).
Meanwhile, in saute pan; cook the onion and garlic in the olive oil over medium heat until the onions are just soft. Add pepper, basil, thyme, oregano, cayenne and eggplant. Continue cooking for 4 – 5 minutes. Add the corn, cook for a minute or so (until the corn is thawed). Add the beans and tomato sauce; mix well. Place mixture into pie plate.
When the potatoes are cooked, drain and return them to the pan. Mash well and then add the yogurt and chives; mix until well blended and smooth. Top with cheese.
Bake for 20 minutes. Increase oven to broil and allow the top to get a nice golden brown (watch carefully).
One Response to Vegetarian Shepherd's Pie – 180