Sausage & Pepper Subs – 179
This is one of those "fun" foods that you think you can't have anymore because you are trying to "be healthy" or "lose some weight". Well – no more! It's fair season (not to mention football season ….. did I ever mention I'm a football fan?); and in my younger (and dumber) days I used to love to get a big, greasy sausage sub at the Rochester Fair. I  learned that one of those costs much more than the few dollars they charge you. I always had to pay with a very uncomfortable bloated feeling accompanied by stomach cramps and general nausea followed by the uncontrollable urge to take a nap. But I have found a great alternative to give me the same fun factor without any of the unpleasant side effects. These go great with what we call "Fun Potatoes" (recipe below). I hope you enjoy these as much as we do.
Sausage & Pepper Subs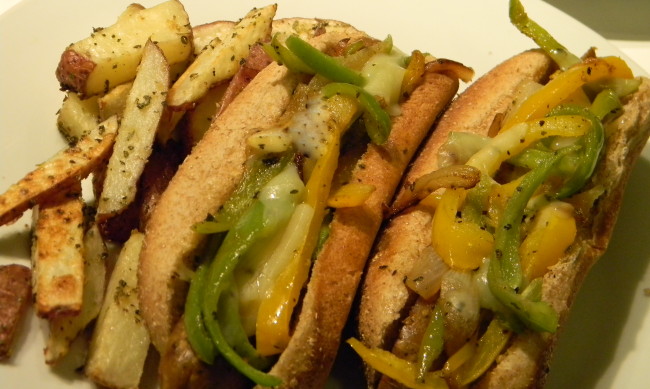 1/2 package Tofurkey Italian Sausages (2 links)
1 green pepper, sliced into thin strips
1 yellow (or red or orange) pepper, sliced into thin strips
1 onion, sliced into thin strips
1 clove garlic, minced
1 Tablespoon olive oil
1/2 cup fat-free cheddar cheese, shredded
4 100% whole wheat hot dog rolls
Slice each Torukey sausage in half lengthwise; set aside. In large frying pan heat oil over medium-high heat. Add peppers and onion and saute for several minutes (until the peppers start to get soft and the onion is lightly browned). Add the garlic and saute for another 1 -2 minutes. At this point add the sausages to the pan, cut side down. These sausages are pre-cooked, so you will only need to warm and lightly brown them. While the sausages are browning, divide the peppers and onions into four equal piles in the pan. Top each pile with 2 Tablespoons of the cheese and allow to melt. I like to toast the rolls in the pan for a minute or so, if you don't have a large enough pan, a toaster oven will do the trick. To assemble, add one 1/2 link to each roll and top with the peppers/onion/cheese mixture. Yum…Yum 🙂
Fun Potatoes
3 red potatoes, sliced into "french fries"
1 Tablespoon olive oil
1/4 teaspoon garlic powder
1/4 teaspoon onion powder
1/4 teaspoon basil
1/4 teaspoon oregano
dash of black pepper
Preheat oven to 450°. Spray a baking sheet with non-fat cooking spray. Place all ingredients into a bowl and toss well. Spread in a single layer onto baking sheet. Bake for 15 – 18 minutes.
One Response to Sausage & Pepper Subs – 179