Jambalaya – 181
Another football weekend – another Patriots victory! To me, football games and yummy, spicy food just seem to be made for each other. Maybe it has something to do with the fact that hot, spicy food pairs so beautifully with a cold beer or two! I've been a Patriots fan since 1985 (not a Super Bowl that Pats fans remember fondly 🙁 ). Since living in Tennessee (Titan's Country), I've had to become a loyal DirecTV customer so that I can take advantage of their "NFL Sunday Ticket". DirecTV also offers a DVR package; something I've come to realize that I can no longer live without. I DVR everything – shows Eric doesn't like, so I can watch them without listening to him complain – shows I don't like, so Eric can watch them without listening to me complain – and, of course, all of the Patriot's games. This way, every Pat's game is on late every Sunday afternoon. The early games (here in Central time) start at noon. I just can't crack a beer and eat Jambalaya at noon. So now I don't have to. We usually start the game around 5, fast forward through ALL the commercials, pause it at half-time, cook some fun food, and then watch the second half while eating a delicious dinner and a couple of icy cold Bud Lite Limes!! Of course, this does mean that I can't watch any other games (who cares!) or look at my Facebook page; because I don't want to know the outcome of the game before I watch it. But getting to watch the game on my time and completely eliminating the commercials is SO worth it 😉
Jambalaya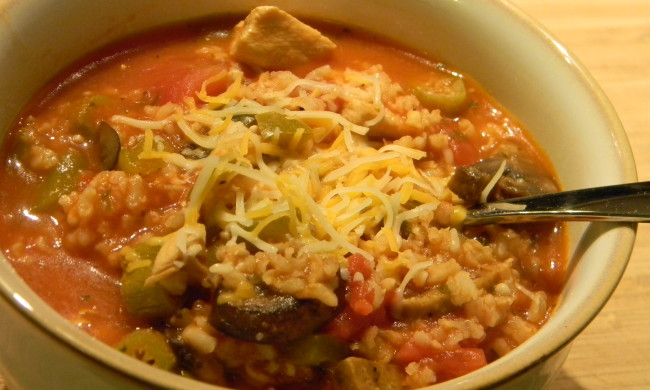 1 Tablespoon Canola oil
1  lb. boneless skinless chicken, cubed
Creole Seasoning (recipe below)
1/2 cup onion, diced
1/2 cup celery, diced
1 bell pepper, diced
2 cups okra, diced
3 cloves garlic, minced
1 Tablespoon diced jalapeno peppers
1 – 6 oz. can tomato paste (no salt added)
2 bay leaves
1/2 teaspoon crushed red pepper flakes
1/2 teaspoon Louisiana hot sauce
4 cups fat-free, low-sodium chicken borth
2 – 14 1/2 oz. cans diced tomatoes (no salt added)
2 links, Tofurkey Italian Sausage
2 bags Success brown rice, cooked according to package directions
In a large Dutch oven, heat the oil over medium-high heat. Season the chicken with a generous amount of Creole Seasoning. Add chicken to the hot oil and saute until nicely browned, but not cooked through. Add the onions, celery, bell pepper, okra, garlic and season with Creole Seasoning ; saute 4 – 5 more minutes. Add jalapeno peppers, tomato paste, bay leaf, crushed red pepper, hot sauce, broth and tomatoes to the pan. Bring to a low simmer and cook for 15 – 20 minutes. Add the Tofurkey and simmer for another 5 minutes. Remove the bay leaves and mix in the cooked rice. Serve topped with shredded low fat Cheddar and Jack Cheese.
Creole Seasoning

3/4 teaspoon white pepper
1 Tablespoon paprika
1/4 teaspoon salt
1 teaspoon onion powder
1 teaspoon garlic powder
1 teaspoon cayenne pepper
1/2 teaspoon black pepper
1/2 teaspoon thyme
1/2 teaspoon oregano

Combine all ingredients in a spice jar, shake well to blend.