African Chickpea Stew – 151
I came across this recipe idea totally by accident, it came up in some search results when I was looking for exercises that can help a hernia! It was a link from a link from another link…anyway, long story. The first recipe I saw had some things in it that I really didn't like, but I loved the idea of a thick stew (more goulash consistency really, not at all soupy) and the combination of sweet potatoes, chickpeas and carrots. I started searching other recipes and I put several ideas together, added more garlic and onion and came up with this.
African Chickpea Stew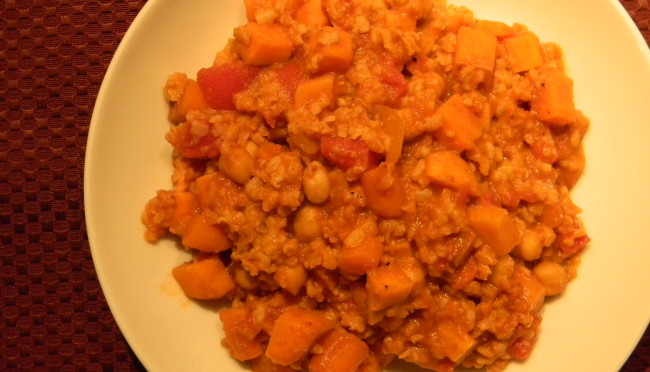 1 Tablespoon olive oil
2 cloves garlic, minced
1 medium onion, sliced
1-1/2 lbs. uncooked sweet potato, diced
1-1/2 cups carrots, diced
2-1/2 cups low-sodium, fat-free chicken broth
1 – 15 oz. can no-salt added diced tomatoes
1 – 15 oz. can low-salt chickpeas, rinsed and drained
Spicy Sauce
2 bags Success brown rice, cooked according to package directions and drained
Spicy Sauce

4 cloves garlic
2 teaspoons paprika
1 teaspoon cumin
1 teaspoon black pepper
1/2 teaspoon ginger
1/2 teaspoon allspice
1 Tablespoon All Natural Peanut Butter
1 – 6 oz. can no-salt added tomato paste
1/2 cup low-sodium, fat-free chicken broth
1 Tablespoon olive oil

Combine all ingredients into a food processor and blend into a smooth, thick pasty sauce.
Heat 1 Tablespoon olive oil in a large skillet over medium heat; add the garlic and onion. Saute until the onion is slightly soft (be careful not to burn the garlic). Add the sweet potato and carrots; season with a little black pepper (about 1/4 teaspoon). Add the chicken broth and bring to a boil; reduce the heat to medium-low and simmer for 10-15 minutes (until the potatoes and carrots are done to your liking). Add the Spicy Sauce and blend well. Mix in the diced tomatoes and chickpeas; cook for an additional 3-4 minutes. Add the cooked rice, mix well and enjoy!