Tiramisu Pie – 188 to go!
Some of you may think that there shouldn't be desserts on a "healthy" recipe blog. But I disagree. Eating healthy is about moderation and making the right choices. I don't recommend this dessert for a weekly event, but it's one of my favorite things to make for our annual Christmas party. For eight servings, it's around 300 calories and less than a gram of fat per serving, there is a fair amount of sugar…but, it's a dessert and not to be eaten daily! Compared that to the Olive Garden version which will cost you 1,000 calories per serving!
Tiramisu Pie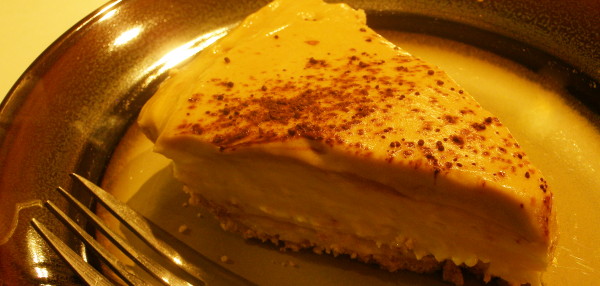 1 graham cracker pie crust
Graham Cracker Crust

1 – 1/2 cups graham cracker crumbs
3 Tablespoons vanilla fat-free yogurt
2 Tablespoons brown sugar

Preheat oven to 350°. In a medium bowl, mix together graham cracker crumbs, yogurt, and brown sugar. Press mixture firmly into a 9 inch pie pan. Bake in preheated oven for 5 minutes.
water
1 – 14 oz. can fat-free sweetened condensed milk
2 – 1.5 oz. package sugar-free, fat-free vanilla instant pudding mix
1 – 8 oz. block fat-free cream cheese
1 – 8 oz. tub fat-free whipped topping
1 Tablespoon instant coffee granules
1 Tablespoon Cocoa
Combine 1 cup cold water, milk and 1 package of the pudding mix in a large bowl; stir well with a whisk. Cover with plastic wrap; chill for at least 30 minutes, or until firm. Remove the plastic wrap, add cream cheese. Beat with a mixer at medium speed until well blended. Gently fold in 1/2  the whipped topping. Spread mixture in the prepared, cooled pie crust.
Heat 1/2 cup of water to very hot, add instant coffee; mix well. Add in more cold water and ice, to make 2 cups of cold coffee. Mix cold coffee with remaining package of pudding in  a medium bowl. Mix well, cover with plastic wrap and refrigerate for at least 30 minutes. Remove plastic wrap and gently fold in the remaining whipped topping. Spread over the vanilla layer in the pie crust. Dust with Cocoa. Chill for at 8 hours. Indulge yourself and enjoy…..you might want to do a double P90X workout the next day 🙂