Pasta Mediterranean – down to 189!
One Saturday morning, last year, Eric was driving home from doing some errands and he stopped at a small farm stand on the side of the road. They had a great selection of vegetables grown on their organic farm just a few miles from our home. Eric started talking with Buddy (who, it turned out, owns the family run farm) and the subject of websites came up in the conversation. Since I own a website design company and Eric is the best marketing director in the world (among his many other talents) he told Buddy that we could design a great site for them and suggested that a barter could benefit all parties involved. We provide a website, they provide the vegetables.
I was at home when all of this happened and had no idea that I had just been volunteered for this project. However; once I saw all the beautiful, organic veggies that were going to be coming my way as "payment", I was happy to do it.
This time of year, we get a lot of peppers, zucchini, summer squash, and eggplant. My Pasta Mediterranean is the perfect use for these fresh organic wonders!
Pasta Mediterranean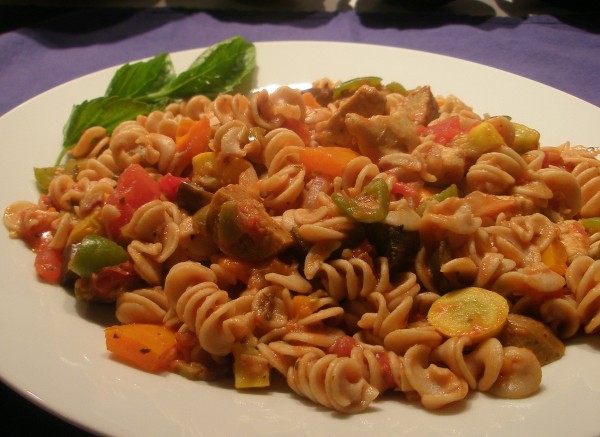 1 Tablespoon Olive Oil
1 lb. boneless, skinless chicken breasts, cut into bite size pieces
1 red pepper, diced
1 green pepper, diced
1 orange pepper, diced
1  eggplant, diced
1 zucchini, diced
1 summer squash, diced
1 cup mushrooms, sliced
1/2 cup onion, diced
3 cloves garlic, minced
1 – 1/2 teaspoon fresh basil, minced
1  teaspoon fresh oregano, minced
1/4 teaspoon black pepper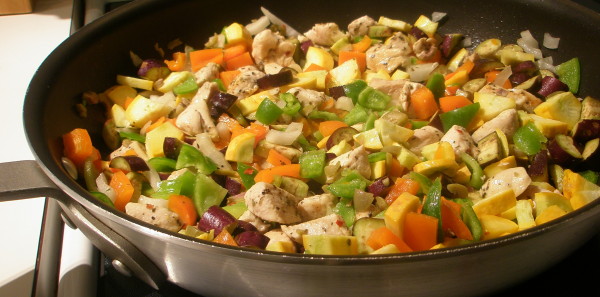 1/2 teaspoon cayenne pepper
1/4 teaspoon thyme
1/4 teaspoon crushed red pepper flakes
6 pitted Kalamata olives, chopped
4 oz. feta cheese, crumbled
2 – 15 oz. cans, no salt added, diced tomatoes
1 – 8 oz. can, no salt added, tomato sauce
2 links of Tofurkey Italian sausage, cut in half lengthwise, then chopped
1 – 16 oz. package whole wheat pasta
Start cooking the pasta, according to package directions (omitting the salt). As soon as you put the pot on to boil the water, heat the olive oil in a large frying pan and saute the chicken until lightly browned and cooked through. Remove from pan and keep warm. Add the vegetables (this combination of vegetables can vary depending on what looks good at your local farm stand or supermarket), season with the basil, oregano, pepper, cayenne, thyme, and red pepper flakes, saute until slightly softened. Add the olives and feta cheese; continue cooking until the feta starts to melt. Add the cooked chicken, diced tomatoes, and tomato sauce. Let cook for a few more minutes (until your pasta is almost done); add the Tofurkey, continue cooking until the Tofurkey is warmed through.
Drain the pasta, and mix it well with the veggies and sauce. Serve topped with grated Parmesan cheese.