Honey Mustard Chicken & Rice – 187 to go…
I'm in a bind, I'm way behind,  I'm looking to make a meal….that was bad  😈  But, I have to admit I am getting behind in my quest for 200 recipes in 400 days. A few Rhett shows and an amazing birthday vacation to Clarksdale, Mississippi have contributed to my slippage. Check out Eric's blog, with photos, here – it's actually a series of blogs. I am determined to reach my goal, so I am going to have to step it up!
Last night my plan was to make breaded chicken strips with a honey mustard dipping sauce (which is also a great recipe that I will add at a later date). My wonderful prep cook began chopping veggies and the chicken while listening to some blues albums. Just as he started chopping, the phone rang;  it was my sister, Donna. I hadn't talked with her since before my vacation so I took the phone in the other room and chatted for quite a while. I told her all about our awesome vacation and she told me about my great-niece's wedding which she had attended over the weekend. After about a half hour, Eric popped his head in the door of my office to let me know that the prep was done and ready for me. I said goodbye to Donna and headed for the kitchen. Unfortunately, Eric had been paying more attention to the music he was listening to than to my prep instructions. He had given me chicken cubes instead of strips. So a quick reassessment of dinner plans was in order. I looked over a few recipe ideas I had been toying with and came up with this. I hope you all like it as much as we did!
Honey Mustard Chicken & Rice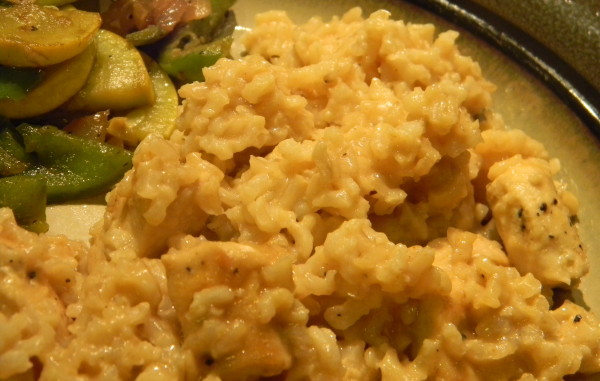 1 pound boneless skinless chicken breast, cut into cubes
2 teaspoons olive oil
1/4 teaspoon black pepper
1/2 teaspoon garlic powder
1/4 teaspoon onion powder
1/4 teaspoon paprika
1/8 teaspoon cayenne pepper
3 Tablespoons honey
3 Tablespoons Dijon mustard
3 Tablespoons plain fat-free yogurt
2 bags Success brown rice, cooked according to package directions
Heat olive oil over medium-high heat in skillet; add chicken. Saute chicken for 2 – 3 minutes; season with pepper, garlic powder, onion powder, paprika and cayenne. Continue sauteing until chicken is nicely browned and cooked through. Push chicken to the outside edges of the skillet; add the honey and mustard to the center and mix together until blended, then start mixing in the chicken from the edges. When completely blended, cook over very low heat for 2 – 3 minutes. Add yogurt and mix; cook just long enough to heat the yogurt and blend the flavors. Mix in the cooked rice and enjoy!