Normand Family Granola – 186
As I've mentioned before, Eric and I work on a country music tour. This involves long trips on a tour bus and, for most, eating in truck stops, restaurants, and catering. Since we don't "believe" in restaurants (I know that probably sounds strange, but more about that in another post), we always bring all of our own food on these trips. For the most part, we get a lot of funny looks when we elect to take a walk around a restaurant parking lot (instead of going in and ordering a meal) and then heating up our own food on the bus once we are rolling again. The one item that we bring that is always a huge hit (we've actually taken to hiding the bag at times) is our home made granola. So here is the very sought after recipe…now make your own!
Normand Family Granola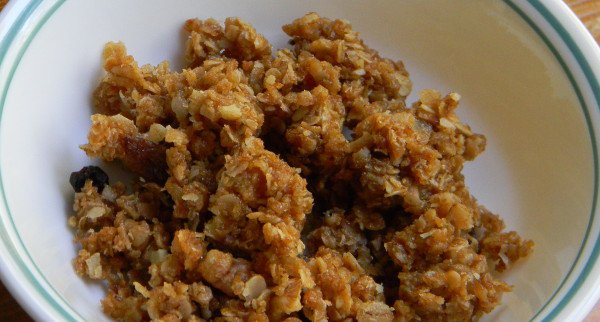 4 ½ cups instant oats
1 cup wheat germ
2/3 cup brown sugar
1 cup nonfat dry milk
¾ cup chopped walnuts
¾ cup chopped almonds
1 ½ Tablespoons cinnamon
2/3 cup honey
1/3 cup canola oil
1 ½ teaspoons vanilla
1 cup raisins
Preheat oven to 325°. Spray large roasting pan with non-stick spray. Combine first seven ingredients; mix well. In small saucepan, combine honey and oil; heat gently to dissolve honey, remove from heat and add vanilla. Pour honey-oil into the dry ingredients, stirring well to thoroughly coat and mix – this is a critical step, be sure that the mixture is completely blended. Bake for 20 to 25 minutes or until toasted to your liking. As it bakes, stir every 5 minutes. Let cool slightly, then add raisins. Cool completely before storing in an airtight container.
Variations:

Add ¾ cup chopped pecans (or include any combination of nuts that you like)

Replace honey with maple syrup

Use half honey and half molasses

Add 1 ½ cups chopped dried apples

Substitute dried cranberries for the raisins
This granola is great all by itself, as a snack, or with milk, or yogurt; Eric likes a bowl of fruit with fat free vanilla yogurt and granola on top. A special treat is to sprinkle some over fat-free, sugar-free french vanilla frozen yogurt while the granola is still warm from the oven 😯