Garlic Balls – 185 more
These tasty little morsels go great with any pasta dish, soup or stew. At about 50 calories and less than 1 gram of fat each, you can enjoy a couple without guilt. Compare that to one breadstick from Olive garden at 150 calories and 2.5 grams of fat each and you could actually eat 3 of these to one of those!
Garlic Balls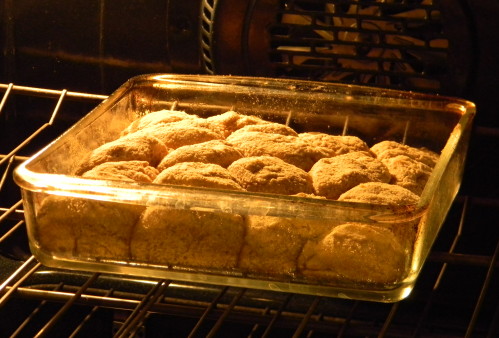 2 cups whole wheat baking mix (click here to see my favorite one from Hodgson Mills)
2 Tablespoons Smart Balance Butter Spread, cold
1 cup skim milk
whole wheat flour
fat-free butter spray
1/2 teaspoon garlic powder
1/3 cup low-fat Parmesan cheese
Preheat oven to 425°. Coat a 9″ x 9″ baking pan with non-fat cooking spray.
Place garlic powder and Parmesan cheese into a small bowl and mix.
Put baking mix into a large bowl, add Smart Balance. Use a pastry blender (or two knives) and cut Smart Balance into the baking mix. Pour in about 2/3 of the skim milk and mix (adding the rest of the milk slowly) until a soft dough forms. You may need to add a little whole wheat flour to get a dough consistency that you can work with using your hands. Place dough on a lightly floured board and form into a large square (about 9″ x 9″). Cut dough into 18 equal pieces, roll each into a ball. Spray each ball lightly with fat-free butter spray, then roll ball into garlic/cheese mix. Place, sides touching, into baking pan. Bake 20 – 25 minutes until golden brown.