Corn Bread – only 196 more to go…
My last post was my chili recipe and you can't really, fully enjoy a bowl of chili without (in my opinion) a cold beer and a piece or two of warm, fresh from the oven, corn bread!
Corn Bread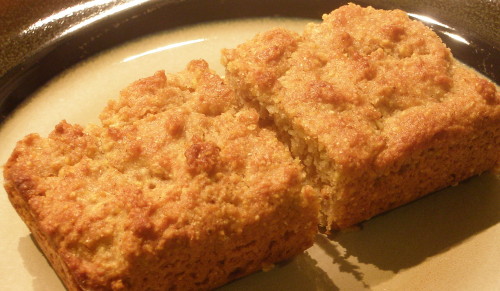 1 cup whole grain cornmeal
1 cup whole wheat flour
1 cup skim milk
1/2 cup egg substitute (equal to one egg)
1/2 cup canola oil
4 teaspoons baking powder
1/8 teaspoon salt
Preheat oven to 425°
Combine all ingredients; pour batter into a 9″ square baking pan that has been sprayed with cooking spray. Bake for 20 to 25 minutes or until golden brown.
Variations:
add a 1/2 cup of shredded low-fat jack cheese and 2 Tablespoons of finely minced jalapeno peppers
this same recipe (with or without the cheese and peppers) works great as muffins; spray 6 muffin tins with cooking spray, fill them 3/4 full with the batter, and bake at 425° for 25 to 30 minutes.