Ground Turkey Stroganoff – 182!
I used to make this recipe with ground beef; however it is just as tasty with ground turkey. If you prefer ground beef, go for it! I would simply substitute the chicken broth with beef broth if you are going to do that. This recipe comes together super fast, basically by the time the noodles are done – you are ready to eat!
Ground Turkey Stroganoff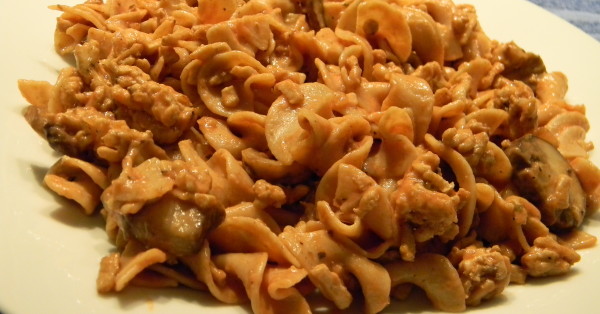 1 cup fat-free plain yogurt
3 Tablespoons no salt added tomato paste
1 teaspoon Worcestershire sauce
1 pound 99% fat-free ground turkey
1 Tablespoon olive oil
1/2 teaspoon basil
1/2 teaspoon garlic powder
1/2 teaspoon oregano
1/4 teaspoon black pepper
1/3 cup onion, chopped
2 cloves garlic, minced
1 – 12 oz. package sliced mushrooms
1 cup low-sodium, fat-free chicken broth
1 Tablespoon cornstarch
1/4 cup chopped fresh parsley
1 – 16 oz. package whole wheat egg noodles, cooked according to package directions (omit the salt)
Combine the first 3 ingredients in a bowl and set aside. Heat olive oil in large skillet over medium-high heat add the ground turkey, breaking it up as it cooks. Season with basil, garlic powder, oregano, and pepper. Continue cooking until the turkey is starting to brown, but is still pink. Add the onion, garlic and saute for another 2 – 3 minutes; add the mushrooms and cook until the turkey is no longer pink and the mushrooms are browned. Pour in almost all of the chicken broth, reserve about 2 Tablespoons in a small bowl. Cook, stirring constantly for about 2 minutes. Add the cornstarch to the reserved broth and mix until dissolved. Add this mixture to pan; cook, stirring constantly for 2 – 3 more minutes or until slightly thickened. Reduce heat to very low; stir in yogurt mixture. Cook for 1 minute or until heated (do not boil). Stir in parsley. Mix with the cooked egg noodles and serve!