Stone Soup – 184 more to go…
The Story of Stone Soup
---
Once upon a time, somewhere in post-war Eastern Europe, there was a great famine in which people jealously hoarded whatever food they could find, hiding it even from their friends and neighbors. One day a wandering soldier came into a village and began asking questions as if he planned to stay for the night.
"There's not a bite to eat in the whole province," he was told. "Better keep moving on."
"Oh, I have everything I need," he said. "In fact, I was thinking of making some stone soup to share with all of you." He pulled an iron cauldron from his wagon, filled it with water, and built a fire under it. Then, with great ceremony, he drew an ordinary-looking stone from a velvet bag and dropped it into the water.
By now, hearing the rumor of food, most of the villagers had come to the square or watched from their windows. As the soldier sniffed the "broth" and licked his lips in anticipation, hunger began to overcome their skepticism.
"Ahh," the soldier said to himself rather loudly, "I do like a tasty stone soup. Of course, stone soup with cabbage — that's hard to beat."
Soon a villager approached hesitantly, holding a cabbage he'd retrieved from its hiding place, and added it to the pot. "Capital!" cried the soldier. "You know, I once had stone soup with cabbage and a bit of salt beef as well, and it was fit for a king."
The village butcher managed to find some salt beef . . . and so it went, through potatoes, onions, carrots, mushrooms, and so on, until there was indeed a delicious meal for all. The villagers offered the soldier a great deal of money for the magic stone, but he refused to sell and traveled on the next day. The moral is that by working together, with everyone contributing what they can, a greater good is achieved.
---
I always loved that story. I was thinking about it the other night when Eric and I were having the daily "what's for dinner" discussion. It was finally a cool fall-like day here in Tennessee; it had been such a long, hot, humid summer that I thought it was never going to cool down again! I found the story on line and decided – "that's what's for dinner!". We had a fridge full of various veggies from our weekly organic basket and we didn't want any  of it to go to waste. The types of vegetables can be anything that you have on hand, the more variety, the better! I didn't actually add a stone to the pot, but if you have kids; reading the story and then making the soup together could be a great way to get them to eat some vegetables 😉
Stone Soup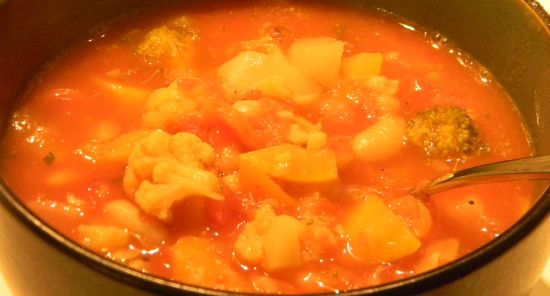 1 Tablespoon olive oil
1 medium onion, chopped
3 cloves garlic, minced
1 cup baby carrots, cut into thirds
1 cup broccoli florets
1 cup cauliflower, cut into bit size pieces
1 cup rutabagas, cut into bite size pieces
1 cup yellow squash, cut into bite size pieces
1/2 teaspoon basil
1/2 teaspoon oregano
1/4 teaspoon thyme
1/4 teaspoon black pepper
1 quart fat-free, low-sodium chicken (or vegetable) broth
2 – 15.5 oz. cans diced tomatoes, no salt added
2 – 15.5 oz. cans great northern beans, rinsed and drained
Fat-free mozzarella cheese
In a large pot, heat the olive oil over medium-high heat, saute the onion  for 2 – 3 minutes. Stir in the remaining vegetables; season with basil, oregano, thyme and pepper. Saute for 6 – 8 more minutes; add garlic and saute for another minute. Add in the broth and bring to a boil, cook for approximately 8  minutes (until the veggies are done to your liking). Place the tomatoes (with their juice)  into a food processor and process until smooth. Add the tomato puree along with the beans to the soup. Cook for 2 – 3 minutes to allow the flavors to blend and heat the beans. To serve, place about a 1/4 cup of mozzarella in the bottom of a soup bowl and then fill with the soup! Yum 🙂 this also goes great with "Garlic Balls"!