Chili – 197 left!
This recipe is a variation on my "Kelly's Famous Chili" that I had been making for years. Late last summer Eric and I pretty much stopped eating beef and pork. There were several reasons why; how we feel after eating them and also after watching "Food, Inc." and "Death on a Factory Farm". I challenge anyone to watch both of those movies and still have the same desire for beef or pork. That being said, everyone has to decide on their own; so if you do eat beef feel free to substitute ground beef for the ground turkey in this recipe (if you do that I would also suggest red kidney beans in place of the great northern beans and water or beer in place of the chicken broth). I have one other suggestion to go with this chili – a cold beer (or two) goes with this like a fine wine 🙂
Chili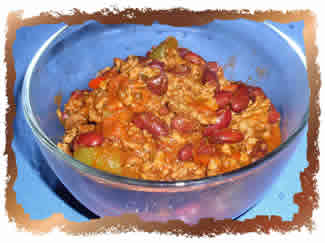 1 – 1/2 lbs. 99% lean ground turkey
1 green pepper, chopped
1 yellow pepper, chopped
1 red pepper, chopped
1/2 cup onion, chopped
1 – 8 oz. package baby portabella mushrooms, sliced
1 Tablespoon garlic, minced
3/4 teaspoon ground cumin
1 teaspoon paprika
3/4 teaspoon oregano
3/4 teaspoon basil
1/4 teaspoon black pepper
1/2 cup chili powder (yes, that is a half a cup!)
1 teaspoon cayenne pepper
1 can diced tomatoes, no salt added
1 – 8 oz. can tomato sauce, no salt added
2 cans (use the tomato sauce can) low sodium, fat-free chicken broth
2 -15 oz cans great northern beans, low sodium; rinsed and drained
In large dutch oven, saute the ground turkey until lightly browned. Add the peppers, onion, mushrooms; continue sauteing for 3 -4 more minutes. Add the garlic and spices; mix well. Add the tomatoes, tomato sauce and broth; mix well. Cover and simmer, stirring occasionally for 30 – 60 minutes (even longer, if desired, the longer it simmers the spicier the flavor). Add the beans and simmer for another 15 – 20 minutes.
One Response to Chili – 197 left!