Chili – 197 left!
This recipe has so many great options and variations. Sometimes I use turkey or ground beef or meatless grounds, sometimes I add mushroom, sometimes creamed corn. I can make it at dinner time or I can make it early in the day and throw it in the crock pot. It all works!
Chili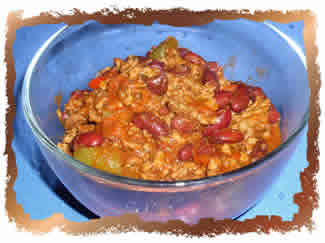 1 lb ground turkey, ground beef or 1 12 oz package of Quorn Meatless Ground
1 green pepper, chopped (or any combination of approximately 2 peppers – colors of your choice)
1 red pepper, chopped
1/2 cup onion, chopped
(*optional* 1 – 8 oz. package  mushrooms, sliced)
1 Tablespoon garlic, minced
3/4 teaspoon ground cumin
1 teaspoon paprika
3/4 teaspoon oregano
3/4 teaspoon basil
1/8 teaspoon black pepper
4 Tablespoons chili powder
1 teaspoon cayenne pepper
1 can diced tomatoes
1 – 12 oz. can tomato sauce
(*optional* 1 – 12 oz. can creamed corn)
1 cup low sodium, fat-free chicken broth
2 -15 oz cans beans (great northern beans go great with ground turkey, red kidney beans are my favorite with ground beef or the meatless grounds) rinsed and drained
In large dutch oven, saute the ground meat until lightly browned. Add the peppers, onion, mushrooms (if using mushrooms); continue sauteing for 3 -4 more minutes. Add the garlic and spices; mix well. Add the tomatoes, tomato sauce and broth; mix well. Cover and simmer, stirring occasionally for 30 – 60 minutes (even longer, if desired, the longer it simmers the spicier the flavor). Add the beans and simmer for another 15 – 20 minutes.
**NOTE** Recently I've been making this as a crock pot meal, it allows it to simmer for a longer time and turns out great. I follow the same directions except – while I'm sauteing the meat, veggies, and spices – I add the canned tomatoes, tomato sauce, creamed corn (if using) and beans to the crock pot. Once the meat, veggies, and spices are done in the saute pan, simply dump all of that into the crock pot with the tomato mixture and add the cup of chicken broth. You can cook it for as long as you have time. If I make this in the morning, I'll set it to low for 7 or 8 hours – if I forget (which I usually do) and don't start it until after lunch, I'll set it to high for 3 – 4 hours.

One Response to Chili – 197 left!