Scrambled Lasagna – 198 to go!
I actually made this on Thursday night. Again we needed a quick meal that would yield some leftovers for a weekend trip with Rhett. Rhett and band played a frat party (!) on Friday night in Troy, Alabama and then an outdoor festival on Lake Barkley in Kuttawa, Kentucky. Since we try to never eat fast food, catering, or basically any food that I don't make myself…we brought all of our own food (as usual). Fruit and yogurt for breakfasts, whole wheat bread and tuna for lunches and two leftover meals. This week it was Baked Feta Meatballs (from Wednesday night) and this yummy, super quick and easy no-bake lasagna:
Scrambled Lasagna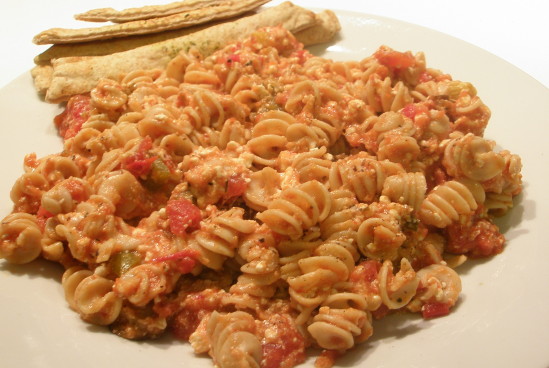 1 – 16 oz. package of any short cut pasta (I used Rotini)
1 1/2 cups fat free Cottage or Ricotta Cheese
1/2 cup fat free Mozzarella Cheese
1/2 cup low fat Mozzarella Cheese
1/2 cup low fat Parmesan Cheese
1 teaspoon basil
1/2 teaspoon garlic powder
1/2 teaspoon oregano
2 cup pasta sauce (I make a big sauce a couple of times and month and have some in jars in the fridge – you could also use any good jarred sauce. You want to check the ingredients and choose one with the least amount of ingredients and low salt, no HFCS, and olive oil.)
Cook pasta according to package directions (no salt); when the pasta is done drain it into a colander. Into the pan that the pasta just came out of add the Ricotta, Mozzarella and Parmesan cheeses; stir over the heat of the burner (turn the burner off after removing the boiling pasta, the leftover heat will be enough to do the job) until the cheeses are starting to melt. Add the spices and then the pasta sauce; mix until everything is well combined and warmed. Dump the pasta from the colander into the pan and scrambled it all up. There you have it!
The "breadsticks" on the plate in the photo are an Eric creation. They are healthy, quick and delicious!

Eric's Breadsticks

whole wheat pita rounds
olive oil
dried oregano
garlic powder

Spray each pita with olive oil (you can buy a simple mister that works great for this), sprinkle with oregano and garlic powder. Place pita in toaster oven on high; toast to desired crispness. I like mine warm but fairly soft and Eric likes his with more of a "crunch" to it. Have it your way!
3 Responses to Scrambled Lasagna – 198 to go!