Chicken Parm Burger – 193 to go
Chicken Parm Burger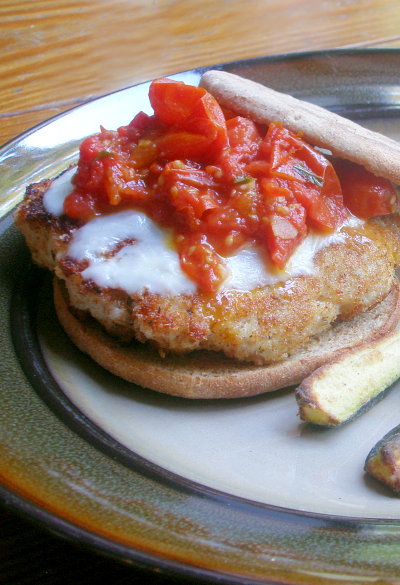 1 – lb 99% fat-free ground chicken or turkey
1 egg
3/4 cup oatmeal
1/4 cup low fat Parmesan cheese
1/2 teaspoon dried onion flakes
1/2 teaspoon onion powder
1/2 teaspoon dried basil
1/2 teaspoon dried oregano
1 cup seasoned, dried whole-wheat bread crumbs
2 teaspoons canola oil
2 cups cherry tomatoes
1 Tablespoon olive oil
1 teaspoon minced garlic
1 teaspoon fresh basil, minced
1/4 cup low sodium, fat-free chicken broth
4 slices Provolone or Mozzarella Cheese
4 whole wheat hamburger buns
Combine ground chicken and next 7 ingredients; form into 4 patties. Place bread crumbs on a plate, dredge patties in bread crumbs.  Heat canola oil in a frying pan over medium-high heat, place patties in pan; cook for approximately 4-5 minutes on each side (until browned and cooked through). Place 1 slice of cheese on each burger when they are almost completely cooked to melt.
While the patties are cooking, place the olive oil in another frying pan over medium heat. Add tomatoes, garlic and fresh basil; mix well. Cover the pan and cook until the tomatoes start to burst. Press the tomatoes with a wooden spoon until they are mush; add the broth and cook down (uncovered), stirring constantly until slightly thickened.
Serve burgers on whole wheat buns, topped with the fresh tomato sauce.