Mini Pizza – 148
I have to give credit to Eric here, he is my pizza king. These pizzas make a great quick lunch, or (if you can afford the calories) an awesome snack 🙂 We use whole wheat pita bread for the crust, it's the perfect size, all whole wheat, no fat and it cooks up nice and crisp. If you'd read many of my other recipe blogs, you'll know that we don't eat beef or pork…but I'll bet you've noticed there are pepperoni's in the photo…fooled you…they're vegan "pepperoni". I promise you, with all of the other flavors and cooked up with yummy melted cheese on the top, you'll never miss those greasy, salty, nitrite slices.
Mini Pizza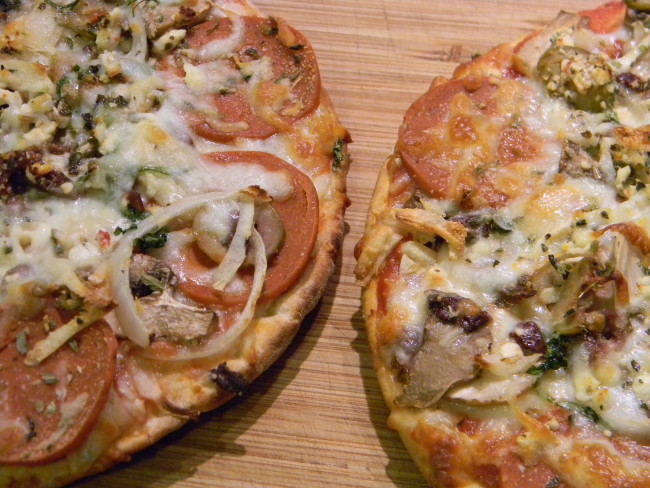 2 whole wheat pita breads
olive oil (in a spray bottle, if possible – here is a link to one on Amazon for about $10)
1/2 cup low-fat mozzarella cheese, shredded
1/3 cup baby portabella mushrooms, sliced
1/3 cup onion, sliced (sweet yellow is really good, red is awesome)
12 slices of vegan pepperoni (Smart Deli is my favorite)
2 cloves garlic, sliced razor thin (watch "Goodfellas" to observe correct technique)
1 teaspoon fresh basil, minced
1 teaspoon fresh oregano, minced
Sauce:

1 eight ounce can no salt tomato sauce
¼ teaspoon each: garlic powder,  onion powder, basil, oregano, onion flakes
1/8 teaspoon crushed red pepper flakes
Place pizza stone in oven and preheat oven to 500°,  when it is preheated, turn it down to 450°.
Spray a light mist of olive oil onto each pita bread. Spread a thin layer (or more if you like it "saucy-ier"), sprinkle each with about 1/4 of the mozzarella. Add the mushrooms, onion, and pepperoni. Top with garlic, remaining cheese, basil, and oregano. Spray with a light mist of olive oil. Place onto pizza stone and cook for approximately 7 – 9 minutes or until nicely browned.
One Response to Mini Pizza – 148