Buffalo Mac & Cheese – 150
The good news is that I am 1/4 of the way to my goal of 200 recipes in 400 days. The bad news is that I only have 206 days to accomplish it 🙁 I will not be discouraged, I am going to keep going and (like Tony says in the P90X workouts) "Do your best and forget the rest".
I loved the idea of combining spicy buffalo chicken with a creamy mac & cheese. I simply needed to "healthy it up" a bit. It is still spicy, creamy, delicious and as comforting as any mac & cheese you've ever had 😉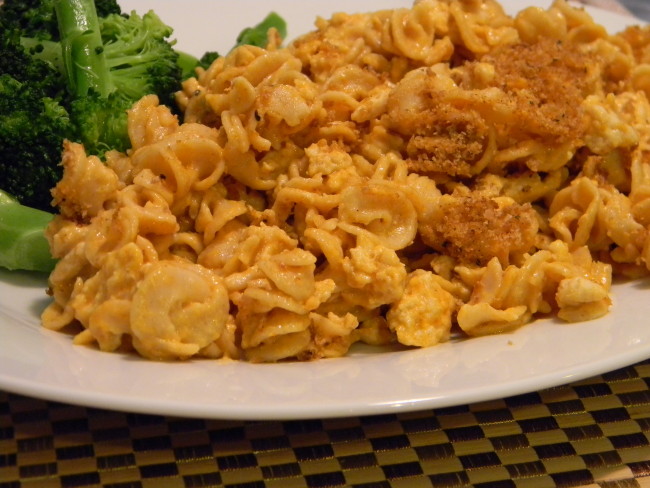 1 – 16 oz. pkg. of any whole wheat pasta (macaroni is the obvious choice, but any short cut pasta will do; I used rotini in the photo)
1 – lb. 99% fat-free ground turkey (or chicken)
1/3 cup Franks Red Hot wing sauce
2 Tablespoons Smart Balance Light
2 Tablespoons whole wheat flour
2 cups skim milk
1/3 cup shredded low-fat jalapeno cheddar cheese
2/3 cup fat-free cheddar cheese
1/3 cup low-fat blue cheese, crumbled
3/4 cup whole wheat dried bread crumbs (seasoned with 1 teaspoon chili powder)
Preheat oven to 350°
Saute the ground turkey in a skillet over medium high heat until cooked through and lightly browned. Turn heat down to very low and add the wing sauce; mix well. While the turkey is browning, cook the pasta according to package directions (no salt) and drain. Put the pasta back into it's pan and add the turkey mixture; cover and keep warm. In the same skillet, on medium low heat, melt the smart balance. Sprinkle in the flour and cook and until well incorporated. Whisk in the milk and keep whisking until the mixture is smooth. Add in the cheese (one cheese at a time and whisk well after each addition). Pour cheese sauce over the pasta/turkey, mix well and then pour into a 9″ x 13″ casserole dish that has been sprayed with fat-free cooking spray. Sprinkle breadcrumbs over the top; cover and bake for 25 minutes; remove the cover and bake for an additional 5 – 10 minutes (until the breadcrumbs are lightly browned).