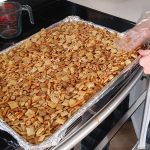 3 cups Corn Chex™ cereal
3 cups Rice Chex™ cereal
3 cups Wheat Chex™ cereal
1 cup peanuts
1 cup bite-size pretzels
1 cup cheerios
6 tablespoons butter
2 tablespoons Worcestershire sauce
1 1/2 teaspoons seasoned salt
3/4 teaspoon garlic powder
1/2 teaspoon onion powder
Preheat oven to 250°
Make the seasoning mixture. Place the butter in a medium, microwave-safe bowl. Microwave in 10-second intervals, stirring between each, until fully melted, 50 to 60 seconds total. (Alternatively, melt in a small saucepan on the stovetop over low heat.) Add 2 tablespoons Worcestershire sauce, 2 teaspoons seasoned salt, 1 1/2 teaspoons garlic powder, and 1 teaspoon onion powder, and whisk well to combine.
Place all the cereals, pretzels, and nuts into a large bowl and toss to combine. Drizzle the seasoning mixture over all of it. Do this in a few stages and mix well in between each to get everything coated.
Bake until lightly brown and crispy. Transfer the mixture onto baking sheets that has been lined with tin foil and sprayed with cooking spray; then spread into an even layer. Bake, stirring every 15 minutes, until lightly browned and crisp, 45 to 50 minutes total. Let cool for 10 minutes on the baking sheets before serving.