If you've read my recipes/blogs here before, you are probably surprised that I'm included a "beef" meal. Well, I've been adding some beef back into my diet for a little while now; not a lot, maybe 2 times a month. I decided I wanted some more variety and since I've been doing a lot of running (getting ready for my 2nd half marathon in November), I sometimes feel like I need it. So here it is, and it's amazing!
Slow Cooker Beef Stew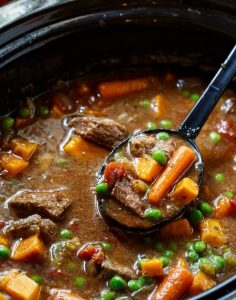 1 lb. lean stew beef
1/4 cup whole wheat flour (plus some more for coating)
3 Tablespoons olive oil
1/2 cup chopped onion
1 Tablespoon chopped garlic
3 Tablespoons tomato paste
4 cups low sodium beef broth
3 bay leaves
1/2 teaspoon ground allspice
1/2 teaspoon thyme
1/4 teaspoon black pepper
2 cups (approximately) chopped carrots (I use baby carrots and cut them in half)
2 cups (approximately) chopped potatoes
1 cup frozen peas
Spray your slow cooker with non-stick cooking spray. Place about 3-4 Tablespoons of whole wheat flour into a zip lock bag; add in a few shakes of black pepper and garlic powder, shake it up. Put all of the stew beef cubes into the bag and shake to coat well. Heat 2 Tablespoons of the oil in a large skillet over medium heat. Add the beef cubes a few at a time to the pan and lightly brown on all sides. When they are brown, remove them and add them to the slow cooker. Once you browned all of the beef add the onion to the same skillet and cook for 2 – 3 minutes (just to very lightly soften them), add garlic and cook for about another 1 minute. Transfer the onion and garlic to the slow cooker with the beef and add in the carrots and potatoes. Add the remaining 1 Tablespoon oil to the skillet (still on medium heat). Add the tomato paste and stir until the oil begins to turn brick-red, about 1 minute. Add the flour and using a wire whisk get it completely incorporated into the paste/oil mixture; cooking for a couple of minutes. Add the beef broth a little at a time, making sure to get each addition completely incorporated before adding more. Once you've added all of the broth, add in the bay leaves, thyme, allspice, and pepper; bring to a simmer, whisking all the time, until it is smooth and thickens slightly, about 4 minutes. Pour into the slow cooker and mix everything well. Cover and cook on low for 7 – 8 hours. Just before you are ready to serve; stir in the frozen peas, replace the cover for about 15 minutes.
Delicious!!