Pastacos – 169
Sunday night we were getting ready to watch yet another Patriots game (which they won – 😀 ) and I need a meal that is worthy of eating during a football game (which means it needs to have a big fun factor and go nicely with Bud Light). I wanted to make tacos, but I was out of taco shells. Game time was approaching and we were all hungry, so I needed something that would come together quick. What I decided on is a combination of pasta and tacos…hence the name PAStacos. It's quick, easy, and delicious!
Pastacos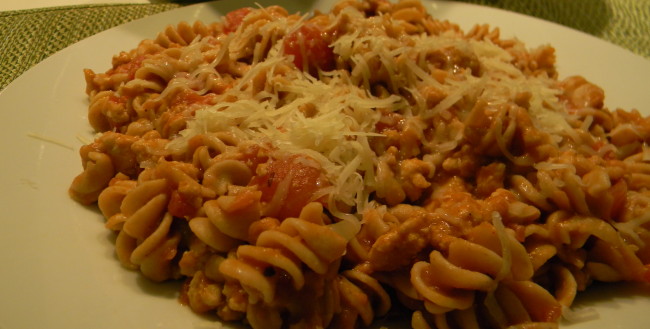 1 lb. ground turkey or ground beef
1 teaspoon olive oil
1 Tablespoon chili powder
3/4 teaspoon garlic powder
3/4 teaspoon onion powder
1/2 teaspoon crushed red pepper flakes
3/4 teaspoon cayenne pepper
1/2 teaspoon dried oregano
3/4 teaspoon paprika
1 – 1/2 teaspoons ground cumin
1 teaspoon black pepper
2 Tablespoons minced jalapeno peppers
1 can fat-free refried beans
2 – 15 oz. cans no salt added diced tomatoes
1 – 8 oz. can no salt added tomato sauce
1 – 12 oz. box Rotini, cooked and drained (no salt added)
low-fat cheddar and/or jack cheese for topping
Brown turkey in olive oil over medium-high heat in a large skillet. Season with chili powder, garlic, powder, onion powder, red pepper flakes, cayenne, oregano, paprika, cumin and black pepper. When the turkey is nicely browned and cooked through add jalapeno peppers, beans, tomatoes and sauce. Mix well and cook for 4-5 minutes. Add turkey mixture to cooked and drained pasta and toss well. Serve with shredded low-fat cheddar or jack cheese.