stir fry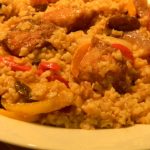 I know, there really is no such person as Normand Tso..sue me! I used to love getting Chinese take out. That is until an hour or so after finishing the food, that's when some very unpleasant effects would start 🙁 No problem, I've conquered Spicy Peanut Noodles and Chicken Teriyaki, why not try the General's Chicken? I searched on line and in books for some ideas, then combined a few of those ideas with some of my own and a quick  pan fry technique instead of deep frying. The taste is very close, it's pretty easy to make, much cheaper than take out, and a whole lot healthier. Get out your wok, some chopsticks and give it a try!
General Normand Tso's Chicken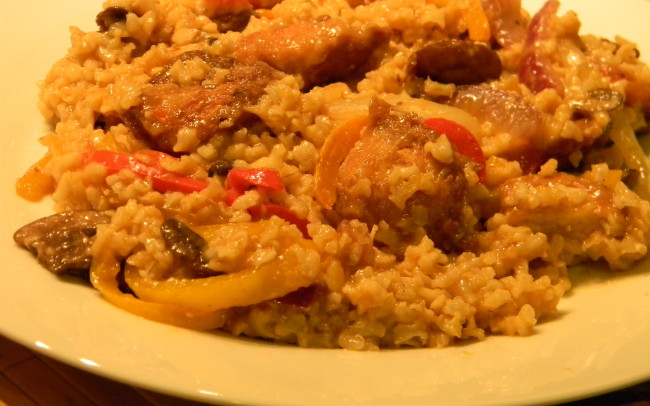 Sauce:

1/4 cup cornstarch
2 Tablespoons water
1 teaspoon garlic, minced
1 teaspoon ground ginger
1/2 teaspoon red pepper flakes
1/4 cup equivalent of Stevia (I use the concentrated version and it comes out to be 1/4 teaspoon)
1/4 cup low-sodium soy sauce
2 Tablespoons white vinegar
1 cup fat-free, low-sodium chicken broth

Put all ingredients into medium bowl; mix well. Set aside
Chicken:
2 Tablespoons low-sodium soy sauce
1/4 cup egg substitute
1/3 cup cornstarch
1 teaspoon crushed red pepper flakes
1/4 teaspoon cayenne pepper
12 oz. boneless, skinless chicken breast, cut into large chunks
3 Tablespoons Canola Oil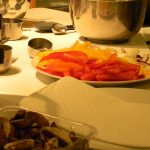 Veggies:
1 red pepper, julienne sliced
1 yellow pepper, julienne sliced
1 small onion (Vidalia or Red), sliced
1 cup portobello  mushrooms, sliced
2 bags Success brown rice, cooked according to package directions (for best results, cook the rice way beforehand and chill; then use the cold rice)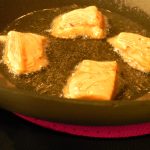 Place soy sauce, egg, cornstarch, pepper flakes, and cayenne in medium bowl; whisk until smooth. Add chicken and coat well. Heat oil in wok (or large skillet) until very hot (but not smoking). Add chicken chunks a few at a time, cook until very brown, turn and cook the other side; remove to a plate that has been lined with paper towels. Continue until all chicken is done. Add all the veggies to the wok and stir-fry for 4-5 minutes, until they are tender-crisp. Pour in "Sauce";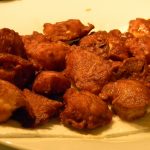 cook until thick (if the sauce gets too thick, add a little water). Add chicken back to pan and cook for an additional minute. Add rice and mix well. Serve and enjoy 🙂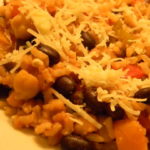 This is one of my favorite recipes. It's super fast, really good for you and takes very little time to cook. Of course, having my prep cook (I mean sous chef 🙂 ) chopping up the veggies first is a big help! Even if you don't have your own sous chef, it's still a really quick meal to prepare and it makes a ton. You can vary the amounts of spices to make it as hot or mild as you like. We like ours pretty spicy!
At less than 300 calories per serving, you can feel good about pairing it with an icy cold beer (or two)!!
Mexican Stir Fry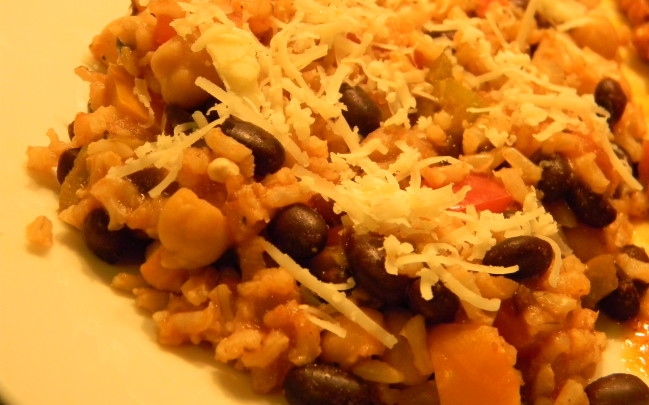 1 diced green pepper
1 diced yellow pepper
1 diced orange pepper
½ cup diced onion
2 cloves garlic, minced
¼ cup diced jalapeno peppers
1/2 teaspoon ground cumin
1/2 teaspoon oregano
1 Tablespoon chili powder
1/2 teaspoon cayenne pepper
1/2 teaspoon dried red pepper flakes
1 – 15 oz. can diced tomatoes, no salt added
2 bags Success Brown Rice, cooked and drained
1 – 15 oz. can low-sodium black beans, drained & rinsed*
1 – 16 oz. can low-sodium chick peas, drained & rinsed*
Sauté the peppers, onion and garlic in a hot wok (or large saute pan) that has been sprayed with non-fat cooking spray. Sprinkle with spices and continue cooking until the veggies are just slightly soft. Add the jalapeno peppers and saute for 1 minute. Add the remaining ingredients, mix well, and let cook over low/med heat for a few minutes to blend the flavors. Serve topped with a sprinkle of Fat Free Cheddar Cheese.
*Variation – when I have leftover Baked Beans (recipe here) I substitute 2 – 3 cups of the leftover beans for the canned beans.