Beer Batter Fried Fish – 168 / Guilt Free Tartar Sauce 167
One of the things I miss most about not living in New England is the availability of fresh seafood. Living here in Tennessee I have to rely on what is available at my local Whole Foods (the best place I've found in the area) or resort to frozen fish. When I say frozen, I'm NOT talking about that disgusting formed and breaded product that some manufacturers attempt to pass of as some sort of food. I do, however, sometimes buy frozen cod, haddock, salmon, or tilapia fillets. This past weekend, Eric and I had been working on my son's new home; doing some construction work and major cleaning. By the end of the second day of work we were ready for a couple of cold ones and a fun dinner. Since we never eat out in restaurants, we needed to come up this fun dinner on our own. Eric suggested a "fish fry". Of course, my challenge was to make it as healthy as possible while still being delicious and fun. I think I did it. I hope you'll try it and let me know what you think.
Beer Batter Fried Fish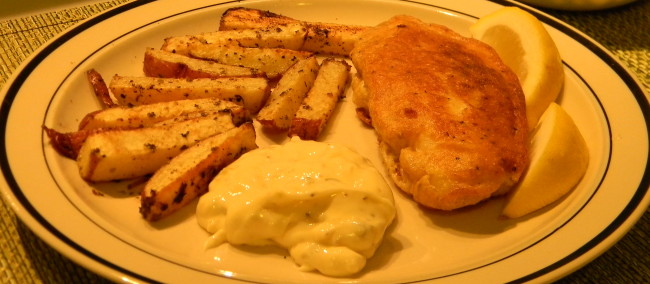 ¼ cup whole wheat flour
¼ cup stone ground corn meal
½ teaspoon baking powder
¼ cup warm beer
¼ cup egg substitute
½ teaspoon canola oil
½ teaspoon salt-free lemon pepper
4 – 4 oz. fish fillets (tilapia, cod, haddock)
2 Tablespoons canola oil
Mix all ingredients together; the consistency should be like a thin pancake batter (if it's too thick add a little water). Heat 2 Tablespoons Canola oil in fry pan over high heat (heat to hot but not smoking), coat fish in batter, place into hot oil. Cook for 2-3 minutes, carefully flip over (be sure there is still some oil visible in the pan, you may need to add a little extra). Cook 2-3 minutes on second side. Cut a piece with a fork to see if it flakes easily, depending on the thickness of your fish it may need another minute or two.
Guilt Free Tartar Sauce
1 cup fat-free mayonnaise
2 Tablespoons sugar-free sweet relish
1 – 1/2 teaspoons horseradish
1/2 teaspoon garlic powder
1/4 teaspoon salt-free lemon pepper
1 Tablespoon lemon juice
Mix all ingredients together; chill.