Linguini and White Clam Sauce
The other night Eric and I were watching "Fast Times At Ridgemont High" (for, probably, the 20th time) and Damone gave Rat his five-point plan: "First of all Rat, you never let on how much you like a girl. "Oh, Debbie. Hi." Two, you always call the shots. "Kiss me. You won't regret it." Now three, act like wherever you are, that's the place to be. "Isn't this great?" Four, when ordering food, you find out what she wants, then order for the both of you. It's a classy move. "Now, the lady will have the linguine and white clam sauce, and a Coke with no ice." And five, now this is the most important, Rat. When it comes down to making out, whenever possible, put on side one of Led Zeppelin IV." I then realized that I had never made a linguine with white clam sauce. What a perfect time to try it!
The next day we did some grocery shopping, I purchased all of the necessary ingredients (those that I didn't already have on hand) and then I started looking through my cookbooks and on-line to get some ideas for the basic recipe. I love to cook, but I almost never follow a recipe exactly. I find that too many recipes include unnecessarily unhealthy ingredients and almost all of them have too much salt. I finally found a couple of recipes that I felt I could work with. My next step was to elicit Eric's superb prep cook skills and get him started chopping garlic, onions, anchovies, and parsley. I decided to use canned chopped clams (rinsed and drained to remove the salt).
I found that this was a much easier dish to cook than I thought. From start to finish, it took about 30 minutes. If you don't have a master prep cook at your disposal, it would take a little bit longer 🙂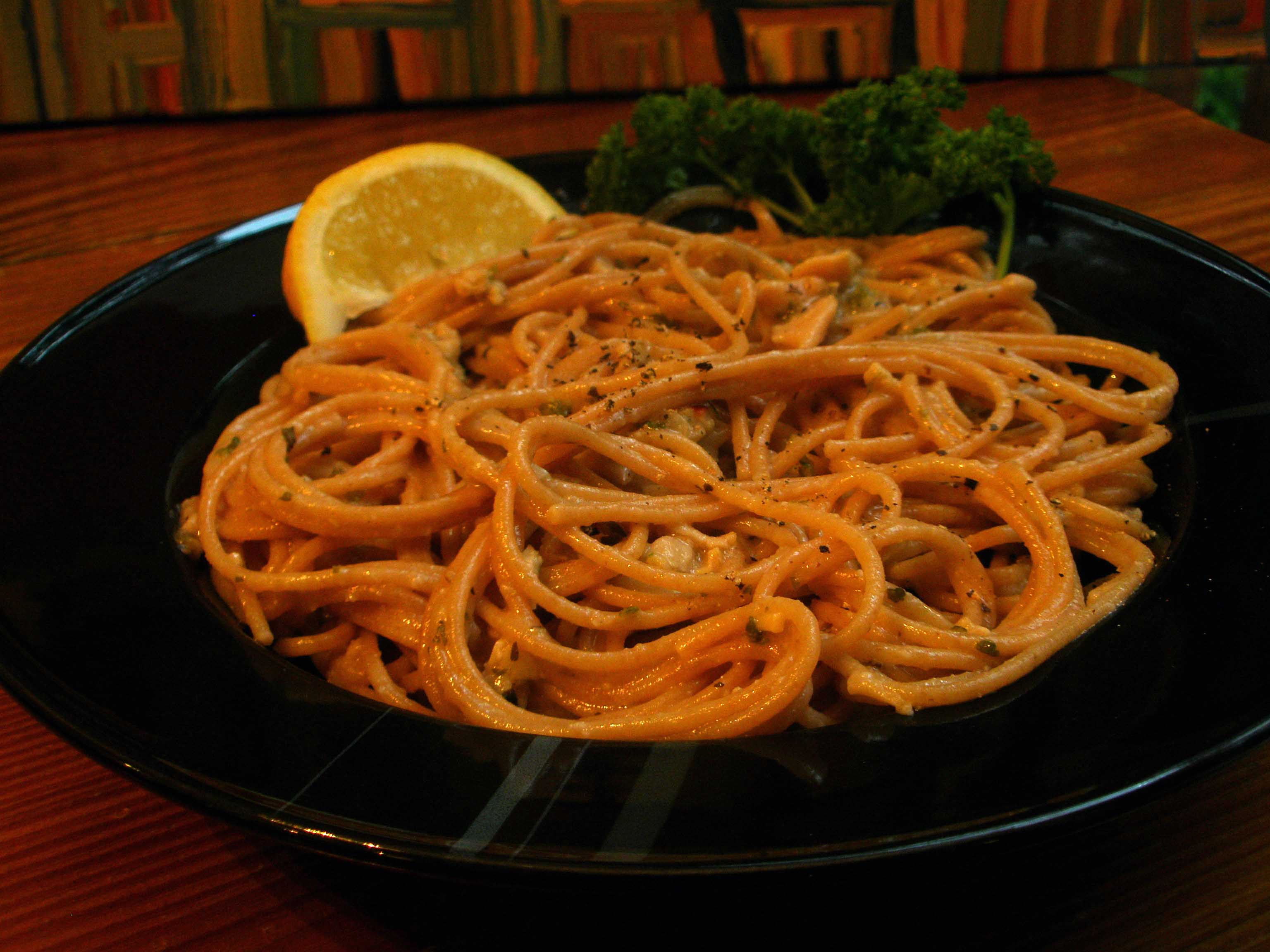 Here is the recipe:
2 cans chopped clams (rinsed and drained)
2 teaspoons Smart Balance Butter Spread
1 Tablespoon Olive Oil
1/4 cup chopped onion
4 cloves finely chopped garlic
2 oz. finely chopped anchovies (rinse and drain before chopping)
1/2 cup white wine
1 quart fat-free, low-sodium chicken broth
1/2 teaspoon crushed red pepper flakes
1/2 teaspoon dried oregano
1/2 teaspoon dried basil
2 Tablespoons chopped parsley
1/2 teaspoon black pepper
1/2 cup skim milk
1 Tablespoon cornstarch
1 cup low-fat Parmesan cheese
1 lb. whole wheat linguine (prepared while making the sauce)
Melt butter in a large saute pan then add olive oil. Add onion, garlic and anchovies. Cook until garlic gets LIGHT golden brown (be careful not to burn the garlic). Add wine and cook down until reduced by half; add chicken broth and next five ingredients. Cook on low for about 10 minutes. Increase heat to medium. Stir cornstarch into skim milk until completely dissolved. Stir milk into broth mixture and whisk until smooth and thickened. If the sauce is too thin, mix a little more cornstarch into a small amount of cold water and add. If the sauce is too thick, stir in more broth until it becomes the desired consistency. Add clams and cheese; mix. Pour sauce over cooked linguine and toss well.
Yes, it is actually spaghetti, not linguine, in the photo – so sue me, they were out of whole wheat linguine at the store!
Enjoy!!