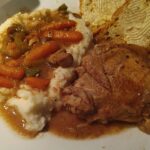 6 boneless, skinless chicken thighs
Salt, pepper, garlic powder
3 tablespoons whole wheat flour
4 slices bacon, roughly chopped
3 tablespoons butter or extra-virgin olive oil, divided
1 (12.0-ounce) package white or baby Bella mushrooms, quartered
2 carrots, chopped
1 yellow onion, chopped
2 cloves garlic, chopped
1/2 cup low-sodium chicken broth
1 ½ cups red wine
½ teaspoon thyme
Mix flour, salt, pepper, and garlic powder in a large plastic bag. Drop in chicken thighs and shake to coat well. Heat a skillet over medium, add butter and/or oil. Add thighs and cook about 3 minutes per side, just to lightly brown. Transfer chicken to plate. Add 1 T butter to skillet and mushrooms and onion and cook until lightly browned. Add carrots and garlic; continue cooking for just a few minutes.
Add vegetables to crock pot, add broth; mix well. Arrange chicken on top. Add wine and ½ teaspoon of thyme.
Cover and cook on high for 5 – 6 hours. Serve over mashed potatoes or rice.