zucchini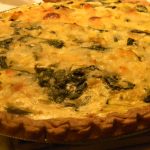 If you've read my previous blogs you'll know that I LOVE to shop at Whole Foods. The last time Eric and I went there, I may have gone a little overboard with the produce – but everything looked so good! I bought a giant container of fresh, organic baby spinach. My plan was to make a Spinach Lasagna (which I did – it was awesome 😉 ); but Eric had warned me that there was still going to be a LOT left over – I disagreed….OK, he was right. So I had to come up with something delicious that would use up the rest of the spinach…that way I'm still technically right and I didn't waste any food 🙂
Back in the mid 90's I spent a bunch of time going to clubs in Salisbury and Hampton Beach (Massachusetts and New Hampshire). My friends and I would go and see either Shockwave or Jet City (our two favorite bands)  at Bevie B's or the Kon Tiki or Tequila Jacks (oh..the memories 😈 ) and at the end of the night, once the bars closed down, we would very often visit this little pizza place that was on the strip in Salisbury and order a piece of "Spinach Pie". Those of you from New England know what I'm talking about. I don't know if it was the time of night or "other circumstances" that made that pie so delicious, but it sure was tasty! I don't even want to think about how much fat, salt and calories it contained, I was young, having fun, and I didn't think about such things.
Now that I'm older (and wiser…no wisecracks…) I want that same delicious spinach pie, without the excessive junk. I think this recipe accomplishes that pretty well. I used a whole wheat pie crust, a mixture of fat-free and low fat cheeses, and added in some zucchini for fun. I made it for dinner last night for me, Eric and Josh and we all had it for lunch today – it's all gone now…I think that says it all 🙂
Spinach & Zucchini Pie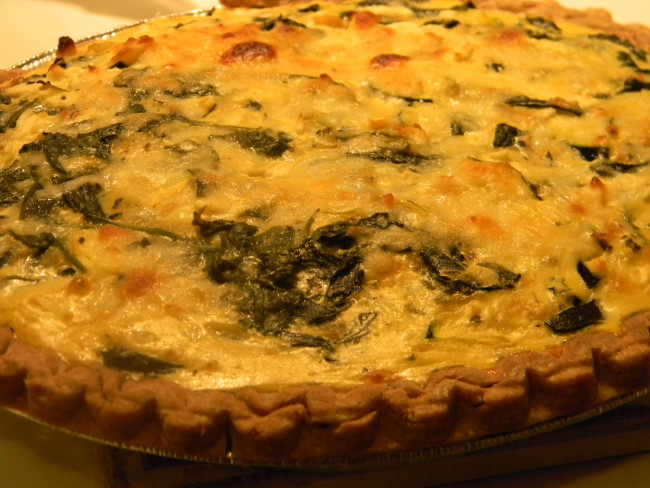 1 9″ whole wheat pie crust (I use Wholly Wholesome)
1 Tablespoon olive oil
3 large cloves garlic, minced
1 cup onion, chopped
1 – lb. baby spinach
1 large zucchini, chopped
1/4 teaspoon nutmeg
1/4 teaspoon black pepper
1/2 teaspoon basil
1/2 cup feta cheese
1/2 cup Asiago cheese
1/2 cup low-fat mozzarella cheese
4 eggs, beaten
Preheat oven to 350°
Heat olive oil in a  skillet over medium heat; add garlic, onion, and zucchini. Saute until the onion is starting to soften. Add the baby spinach in small batches (it will look like way too much, but the spinach wilts down pretty quickly), continue sauteing until all the spinach has been added and is wilted down. Set aside and let cool slightly.
Combine feta, Asiago, and mozzarella cheeses and egg in a large bowl. Add in the cooled spinach mixture and mix well. Pour into the whole wheat pie crust. Bake for approximately 45 minutes or until a knife inserted into the center comes out clean.
This is a really simple vegetarian dinner that comes together really quick, has an easy clean up and tastes heavenly! I like to just have a simple salad with it, and you're done. My favorite way to make this meal is to throw it together, place it in the oven, and then relax in a hot bath while it's cooking. The timing is perfect 😉
Zucchini Quiche
3 cups zucchini, diced
1 small onion, chopped
2 cloves garlic, minced
1 cup Whole Wheat Bisquick
1 cup Egg Substitute (equal to 4 eggs)
½ cup Canola oil
½ cup low-fat cheese, grated
½ teaspoon oregano
1/2 teaspoon basil
1 teaspoon parsley
1/8 teaspoon pepper
Preheat oven to 350° and spray 9" pie plate with non-fat butter flavor cooking spray. Mix all ingredients together in a large bowl. The mixture will be very thick, don't worry – it supposed to be. (Click on the images below) Pour into buttered pie plate. Bake at approximately 35 to 45 minutes until knife inserted in center comes out clean.