burgers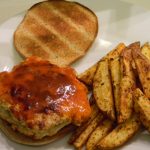 First I have to apologize for being so behind in my postings! The Tuesday after the Rhett show in Darien, GA I woke up with a terrible cold. This was the first cold I've had in almost 3 years and it really kicked my butt. That, coupled with helping Eric launch his new book AND keeping up with website work – I haven't been cooking many new meals 🙁 On a happy note – Eric's book was officially published last week – click here to read all about it and get your own copy 🙂
Enough with the excuses – let's get to the food! I love buffalo anything (think buffalo hot wings, not the big hairy animal that roams 😉 ) – so I came up with this variation of a ground chicken (or turkey) burger, hot buffalo sauce on the outside, stuffed with a creamy blue cheese filling….Amazing!!
Stuffed Buffalo Chicken Burgers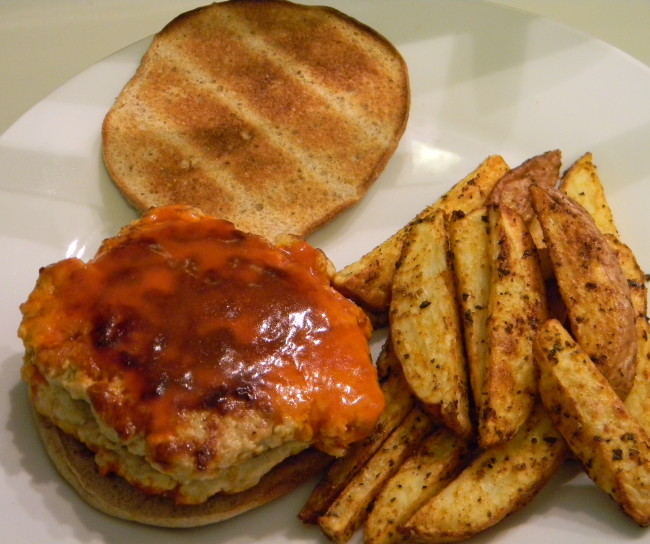 1 lb. 99% fat-free ground chicken (or turkey)
1/4 teaspoon cayenne pepper
1 teaspoon chili powder
1/4 teaspoon garlic powder
1/3 cup fat-free bleu cheese
4 Tablespoons fat-free cream cheese
1/2 teaspoon onion powder
1/2 cup hot buffalo sauce (I use Frank's)
Combine the ground chicken, cayenne, chili powder, and garlic powder in a bowl; mix well. Form into 8 very thin burgers; place onto a plate. Combine the bleu cheese, cream cheese, and onion powder in a food processor and blend well. Divide the bleu cheese mixture into 4 equal portions and place onto each of the 4 chicken burgers, place an additional burger on top and squish together well. Heat a skillet to medium-high and spray with butter flavor cooking spray. Place your stuffed burgers into the hot pan and brown well on each side, lower the heat to medium and continue cooking until cooked through (nobody wants a rare chicken burger!). When the burgers are done, pour the hot sauce over the burgers and flip them a couple of times, really coating them well with the sauce. Place onto 100% whole wheat buns (I really like Arnold's Sandwich Thins). Serve them with some delicious oven roasted "fries" and you'll be thanking me later!!