Instant Oatmeal – 176
I love hot oatmeal for breakfast and I used to buy the Instant Quaker Oatmeal in packets. That is until I started reading labels a few years ago. They are full of added sugar and salt. I read an article about how to create your own instant oatmeal packets and that's how I started making my own. Over the years I have experimented with some different ingredients and flavors and this version is the very best I've found. My favorite way to eat it is with some sliced fresh banana … mmmmmmmm! It's nutritious and delicious, it costs a fraction of what the individual packets costs, and it takes about 5 minutes to make enough for about a month! I hope you'll try it and maybe even try some of your own variations and let me know about them 🙂
Instant Oatmeal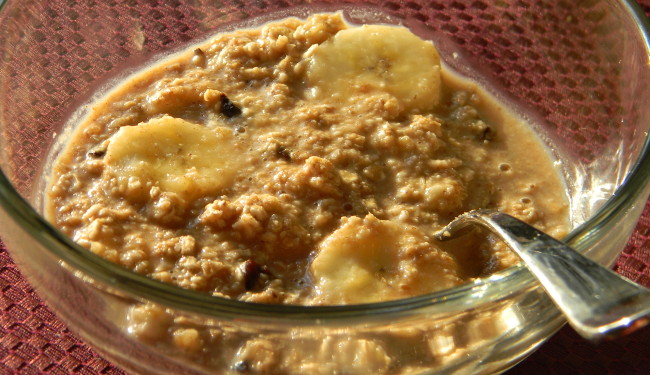 Instant Oatmeal
6 cups quick oats, dry – divided
1 cup brown sugar
1 Tablespoon cinnamon
1 (slightly rounded) teaspoon stevia extract (equal to 1 cup sugar)*
1 ½ teaspoons vanilla
1 cup wheat germ
1 cup non-fat dry milk
1 cup walnuts
1 cup raisins
Place 2 cups oats and brown sugar into food processor – pulse lightly to mix; then add cinnamon and stevia and pulse again – then add the vanilla (pour the vanilla in quickly and not all in one spot) and immediately put the top on the processor and process until it is mixed very well and looks almost like a powder consistency, pulsing and/or scraping down the sides as necessary.
Into a large bowl, place the remaining 4 cups oats, wheat germ, and dry milk; add the contents of the food processor.
Place the walnuts into the empty food processor and process (pulsing) until the nuts are fairly finely chopped – you want very small pieces but not ground walnut power. Add the walnuts to the bowl with the rest of the oat mixture.
Mix in the raisins a little at a time; dispersing them throughout.
Store in an airtight container.
To make a bowl of oatmeal:
Place equal amounts of oatmeal mixture and boiling water into a bowl, stir and add any fruit of your choice, if desired.
*I find that Trader Joe's has the best price on this Stevia Extract, but you could you use any brand. The extract is very concentrated so 1 teaspoon is equal to the sweetness of 1 cup of sugar.
One Response to Instant Oatmeal – 176