Chili Cheese Dogs – 156
Last night we were having our nightly "what's for dinner" discussion and we just couldn't decide on anything. Eric wasn't feeling well and he couldn't perform his usual prep cook magic and for some reason I just didn't feel like cooking (a very rare occurrence!). Then I looked into the freezer and saw a package of organic turkey hot dogs that I'd purchased a while ago from Whole Foods.
If you've read many of my blogs, you'll know that I strive to make healthy versions of all my favorite foods. Hot dogs have been a difficult one because most of what you find in supermarkets are full of fat, salt, nitrites and all sorts of nasty stuff. The only alternatives have been mealy, tasteless imitations of real hot dogs. These ones are made by Applegate Farms and they are delicious and healthy 🙂
Just a plain hot dog was not going to cut it for dinner. So I said "how about chili cheese dogs"? The only problem was I didn't have any leftover chili. No problem, I simply put together some "chili-like" ingredients, simmered them together on the stove and viola….instant chili….add cheese, put on top of a hot dog and you've got chili cheese dogs. Add a quick salad on the side and you're done!
Chili Cheese Dogs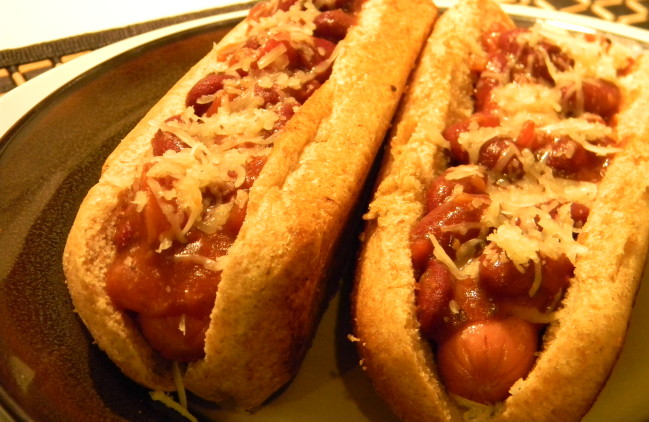 1 – 15 oz. can diced tomatoes, no salt added
1 – 15 oz. can red kidney beans, low sodium
1/2 teaspoon garlic powder
1/2 teaspoon onion flakes
1/2 teaspoon paprika
1/4 teaspoon oregano
1/4 teaspoon basil
1/8 teaspoon black pepper
1/2 teaspoon ground cumin
1/4 teaspoon cayenne pepper
2 Tablespoons chili powder
2 Tablespoons chicken broth, fat-free, low sodium
1 teaspoon cornstarch
4 organic turkey hot dogs
4 whole wheat hot dog buns
1/2 cup low-fat or fat-free cheese, shredded
Place tomatoes and beans into a medium saucepan over medium heat. Add garlic powder, onion flakes, paprika, oregano, basil, black pepper, cumin, cayenne, and chili powder; mix well. Simmer for several minutes (15 or 20 if you have the time). In a small bowl mix the chicken broth with cornstarch, add this to the beans and stir well until thickened. While the chili is cooking, place the hot dogs into a skillet that has been sprayed with non-fat cooking spray and saute them until they are heated through. Either toast the buns in toaster oven or in the same skillet as the hot dogs.
To assemble; place a little cheese on the bottom of a bun add a hot dog, top with chili, sprinkle with additional cheese – Enjoy!
I did a quick Google search on the nutritional info of "Chili Cheese Dogs" and found that if you ordered one from Dairy Queen you'd be choking down almost 450 calories, 22 grams of fat and over 1,000 mg of sodium — yuk 😯