Baked Honey-Mustard Salmon & Sauteed Zucchini
This was dinner last night. Hope you give it try and enjoy it as much as we did!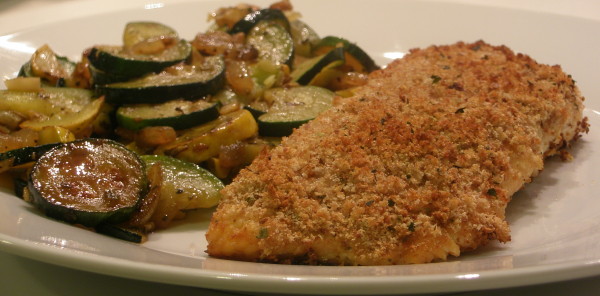 Baked Honey-Mustard Salmon
2 – 6oz. salmon fillets
3/4 cup plain fat-free yogurt
3 Tablespoons Dijon mustard
2 Tablespoons Honey
1/4 – 1/2 teaspoon cayenne pepper (to taste)
1/8 teaspoon garlic powder
3/4 cup dry, seasoned, whole-wheat bread crumbs (see recipe below)
Preheat oven to 400°. In small bowl stir together yogurt, mustard, honey, cayenne, and garlic powder. Brush each salmon fillet with approximately 1 Tablespoon of honey-mustard sauce (reserve the rest of the sauce for dipping :)) coat the top and sides of each fillet with the seasoned bread crumbs. Bake for 12 – 15 minutes in the preheated oven or until it flakes easily with a fork.
Seasoned Whole Wheat Bread

4 slices whole wheat bread
1/4 teaspoon garlic powder
1/4 teaspoon onion powder
1/4 teaspoon dried basil
1/4 teaspoon dried oregano

Place bread slices on a baking sheet and bake at 225° for about 15 minutes, turn off oven and let dry for about another 15 minutes. Break up the slices into a food processor and add the spices (the types of spices and the amounts can be adjusted according to your taste and what type of recipe you will be using them in); blend in the processor until it turns into fine crumbs. 4 slices of bread makes a little over 1 cup of dried crumbs. Leftovers can be stored in an airtight container in your fridge.
Sauteed Zucchini
2 cups zucchini, sliced
1 cup summer squash, sliced
1/2 cup onion, sliced
1/4 teaspoon garlic powder
1/2 teaspoon dried basil
1/2 teaspoon dried oregano
1/4 teaspoon freshly ground black pepper
3 cloves garlic, minced
1 Tablespoon olive oil
1/2 cup non-fat, low-sodium chicken (or vegetable) broth
Heat olive oil, over medium-high heat; add zucchini, summer squash, onion and seasonings until lightly browned. Turn heat down to medium and add garlic; continue to saute for another 1-2 minutes. Add broth and cover; continue cooking for 3-4 more minutes or until most of the broth has reduced; stirring occasionally.
One Response to Baked Honey-Mustard Salmon & Sauteed Zucchini