pesto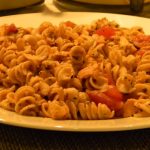 I love pesto, it's delicious and really quick and easy to make. Pesto is one of the very first things I ever learned to make when I was about 12. At that time I didn't even know it was called pesto. I found the recipe in a "teen" magazine and they called it green spaghetti. I've included my pesto recipe at the bottom; but you could also use a store-bought version, just look for one with only the basic ingredients and be sure it uses only extra virgin olive oil.
This recipe combines pesto with salmon and whole wheat pasta for a great tasting and good for you dinner that comes together in the time it takes to boil the pasta (even if you make your own pesto). Don't be afraid of the 13 grams of fat, this is healthy fat, the kind your body needs 😀
Pesto Salmon Pasta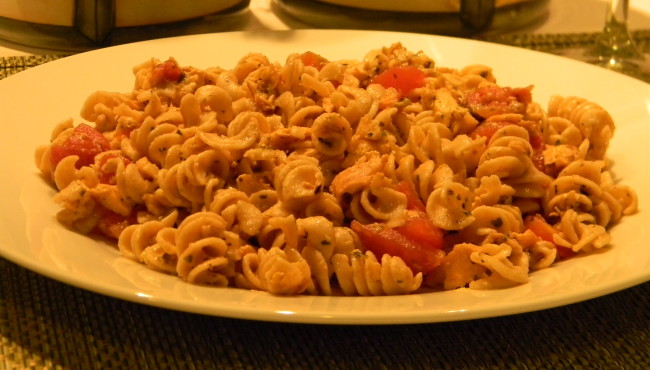 12 oz. salmon
1/4 cup pesto (recipe below)
1 – 14 1/2 oz. can diced tomatoes (no salt added)
1 – 16 oz. package whole wheat rotini (or any short cut pasta), cooked according to package directions (no salt added)
Place salmon into a frying pan (that has been sprayed with cooking spray) over medium-high heat. Break up the salmon into small pieces as it cooks. After about 3-4 minutes add in 2 Tablespoons of the pesto and continue cooking and stirring until the salmon is completely cooked through. Add in the diced tomatoes and cook for an additional minute or two, just until the tomatoes are heated. Mix the remaining 2 Tablespoons of pesto with the cooked pasta. Pour salmon mixture over the cooked pasta, toss and enjoy!
Homemade Pesto

2 cups fresh basil leaves, packed
1/4 cup low-fat grated Parmesan cheese
1/2 cup extra virgin olive oil
3 Tablespoons walnuts, chopped
3 cloves garlic, minced

Place basil leaves into a food processor and blend until well chopped. Add each additional ingredient one at a time, blending well after each addition. Process until smooth, scraping down the sides occasionally.