Poultry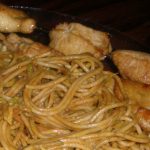 Last Friday Eric and I were trying to get ready to leave for a show in Ohio with Rhett. Since we have had all of July off, it was a particularly hectic day of trying to remember all the details that go into leaving for a bus trip and not forgetting anything.
…side note: Eric's going to kill me for relating this little story here, but I can't resist. It has been 6 weeks since we've done a show and it is very easy to forget some things when your schedule has been so different. So…we did manage to get ready, get everything packed and leave for the trip without forgetting anything – a minor miracle. However when we arrived back in Nashville on Sunday morning and unloaded all of this gear from the bus to our car…well that was a different story. We live about 35 minutes from where we get the bus, so here we are driving home and I am really looking forward to grabbing my favorite blanket, sitting in my favorite chair and enjoy some breakfast and a hot cup of tea any minute now, since we are only 5 minutes from home. It was right then that Eric glanced in the rear view mirror and exclaimed "Shit!". Oops, he had left his guitar on the bus 🙂 Thankfully we have the most wonderful bus driver in the world and he had not taken the bus back to the shop yet and agreed to wait for us. So it was about an hour later before I was enjoying my breakfast and tea, of course if was worth it since I spent most of that time teasing Eric about his forgetfulness. I'm so lucky that he puts up with me!…OK, back to business here!
We needed to have a quick meal that would not require much chopping (since my excellent prep cook had many other things to attend to that night) and would yield some leftovers that we could take with us and eat on the road. We decided on a super easy and yummy recipe that I created several months ago: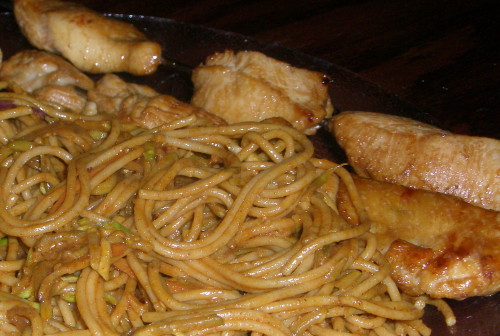 Spicy Peanut Noodles and Chicken Teriyaki:
1 – 16 oz. package of whole wheat spaghetti
1 tsp. cayenne pepper
1/2 tsp. crushed red pepper flakes
1 Tablespoon chili powder
1 Tsp. ground ginger
3 cloves garlic, minced
2 Tablespoons olive oil
3/4 cup low-sodium soy sauce
3 Tablespoons peanut butter – Smucker's All Natural is the best – nothing but peanuts and salt!
1 – 16 oz. package of broccoli slaw
While spaghetti is cooking, heat olive oil in a large wok, add garlic and saute until soft. Add cayenne, red pepper flakes, chili powder and ginger; mix well. Add soy sauce and peanut butter.
Simmer on lowuntil peanut butter is liquefied. Add broccoli slaw and toss well; continue cooking, stirring occasionally for 2 – 3 minutes. When spaghetti is done, add it to the wok and toss well.
A few hours before you start the noodles, you need to marinate the chicken for the Teriyaki:
4 oz. pineapple juice
1/4 cup canola oil
1/4 cup low-sodium soy sauce
1 Tablespoon brown sugar
1 tsp. ginger
1 tsp. garlic powder
1 Tablespoon honey
1 lb. boneless skinless chicken, cut into 3″-4″ strips
Place chicken in a shallow bowl with cover. Mix all ingredients (except chicken) together and pour over chicken; cover and marinate for at least 1 hour. Right before you start cooking the spaghetti, preheat the oven to 425º. Skewer chicken pieces on metal skewers, place on a rack on a baking sheet and bake for 10 minutes per side.
An even quicker variation to this recipe –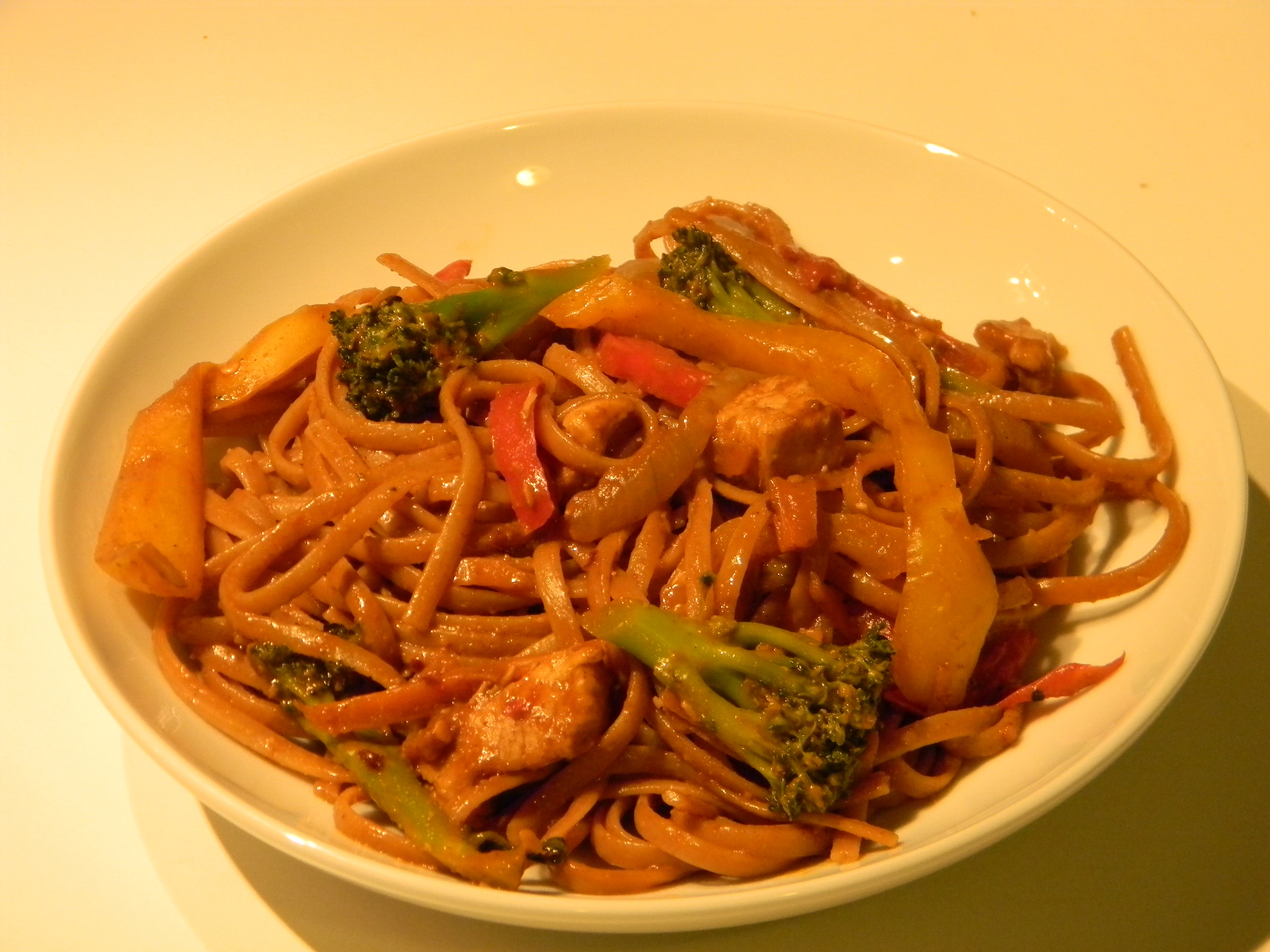 Eliminate the marinade. Add these steps to the beginning of the Spicy Peanut Noodle directions. Chop the chicken into bite sized pieces, saute in a little olive oil in the wok until lightly browned. Remove the chicken from the wok and keep warm. Continue with the remaining Noodle recipe and add the cooked chicken back into the wok right before you add the spaghetti at the very end.
Yum 🙂
Another variation is to completely eliminate the chicken! It's still nutritious, delicious, and filling as a vegetarian dish!